Military support for Ukraine
Massive support to repel Russian attack: joint action by Germany and its allies.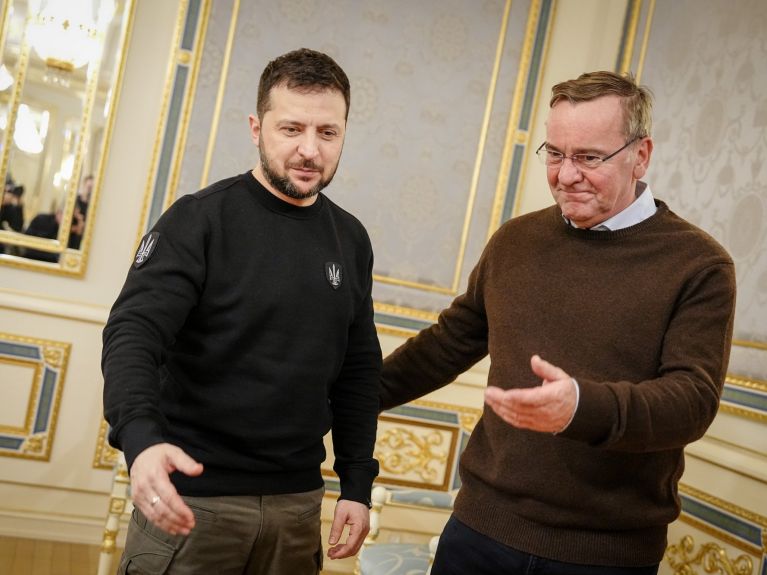 More than 100 battle tanks of the older Leopard 1A5 type, and possibly even as many as 180, are to be supplied to Ukraine's armed forces – this is the promise that Germany's Defence Minister Boris Pistorius brought with him from Germany, Denmark and the Netherlands during his first visit to Kyiv. Previously, Germany had already pledged to deliver 14 state-of-the-art Leopard 2A6 tanks. Training in how to use the weapon systems has also already begun, with 600 Ukrainian sergeants to be trained. According to Defence Minister Pistorius, a total of 1,200 Ukrainians have already received training in a variety of weapons systems. Furthermore, Germany is supplying ammunition and spare parts, and providing support with maintenance of the tanks. These are just the most recent examples of Germany's extensive military assistance, however.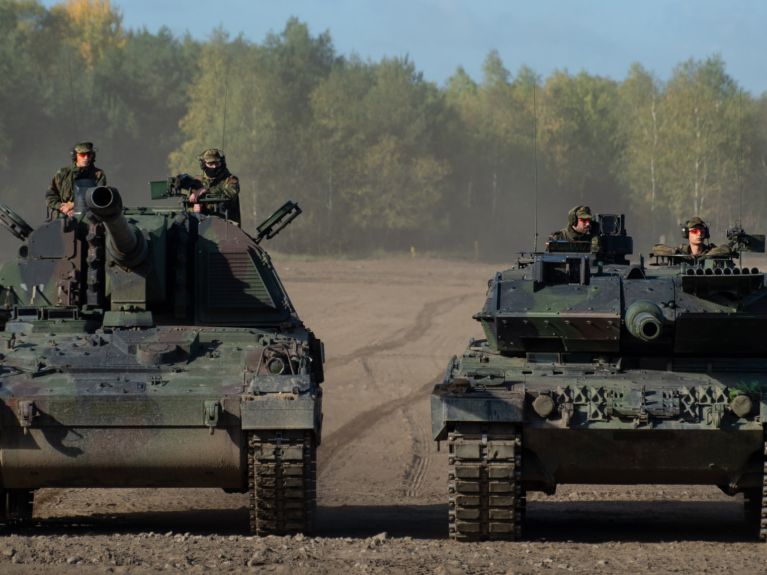 Multilateral approach 
Germany has so far invested around 3.3 billion euros in providing Ukraine with military support, says Pistorius. This puts the country in third place behind the USA and the UK. Germany's policy as far as weapons deliveries are concerned is unequivocal: with the exception of fighter jets, the country will supply whatever is needed, though only on a joint basis with its allies. One fundamental principle of German foreign policy is the multilateral approach, which applies when dealing with all foreign policy challenges – and especially when it comes to the war in Ukraine. After all, Russia's war is an attack not only on another country, but on the right to self-determination of free people, as well as an attack on the rule-based international order and the rule of law. That is why Germany only supplies arms together with others rather than on a unilateral basis. "Cohesion within our alliances and partnerships is our greatest asset," Federal Chancellor Olaf Scholz said in a government statement in February 2023.
And Germany is supplying a lot – not only battle tanks: well over 100 different types of weapon, transportation and equipment have been promised or already handed over by the German government. Alongside modern air defence systems like the Iris-T SLM, 30 Gepard anti-aircraft guns, 40 Marder infantry fighting vehicles, five MARS-2 multiple rocket launchers and 14 type 2000 self-propelled howitzers, not to mention countless infantry weapons, this includes military hospital equipment, hospital beds, fork-lift trucks and jamming transmitters. In some cases the aid is supplied directly, while in others Ukraine is provided with the money to buy it from manufacturers.  
Under the circumstances, the German government is being as transparent as possible with its deliveries. It publishes a weekly updated list of armaments that have already been supplied or ordered on this website.  
You would like to receive regular information about Germany? Subscribe here: