From arriving in Germany to getting a job
War refugees from Ukraine receive protection and support in Germany. An overview of the most important information.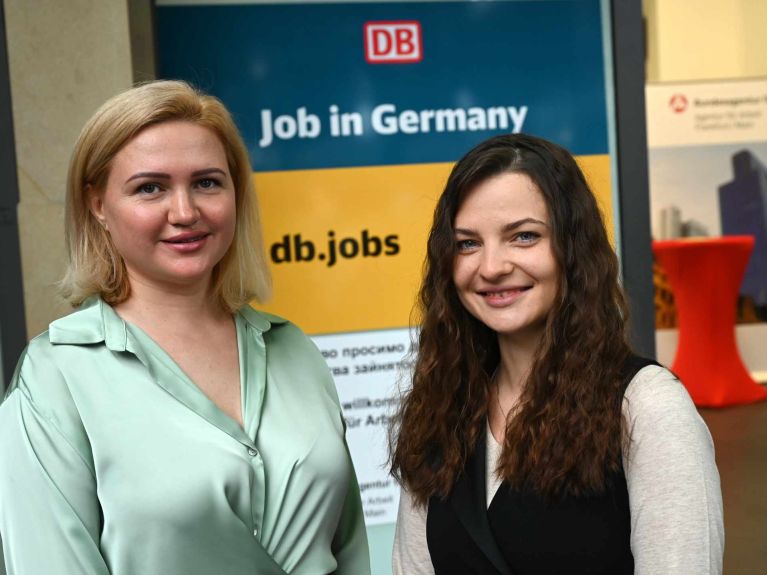 More than a million people, above all women and children, fled to Germany to escape the war in Ukraine in 2022. They were granted the immediate protection that had been agreed in the European Union and did not have to undergo the usual asylum procedures. We present an overview of all the key regulations and points of contact:
Which regulations apply when entering Germany?  
Normally, a residence document such as a visa is required to enter and spend a period of time in Germany. War refugees from Ukraine have been temporarily exempted from this requirement, however. As things currently stand in February 2023, this exemption will apply to those arriving until 31 May 2023 for a period of 90 days, meaning that they can remain in Germany without a visa until 29 August 2023. The regulations will be amended, however, and generally new arrivals have to apply for a residence permit within 90 days.
What support do refugees in Germany receive? 
War refugees can receive state support, which includes help with accommodation and subsistence, as well as social welfare benefits. This requires refugees to register, for example at one of the many reception centres all over Germany. Refugees who receive social welfare benefits and do not have private accommodation will also be notified upon registration where they will initially live. This is intended to ensure that those in need of protection are evenly distributed among cities and towns across Germany. Furthermore, a whole series of advisory services and language courses are on offer to help the new arrivals in their everyday lives. Some of these are also targeted specifically at women. Integration courses for refugees always include language lessons so that people are able to apply for a job, for example.
Are refugees from Ukraine permitted to work? 
Yes, that is possible. Upon application, the immigration authorities will issue the necessary documents. This allows refugees to work in Germany or to work on a self-employed basis. All other questions should be addressed to the Federal Employment Agency. Its staff will help refugees find a job or vocational training place. 
Detailed information about staying and working in Germany, as well as about everyday life and German courses, can be found here in English, Russian and Ukrainian. 
You would like to receive regular information about Germany? Subscribe here: