"You can come here every day"
Mädchenbüro Milena helps Ukrainian women who have fled their homeland. Three of them talk about their experiences and dreams.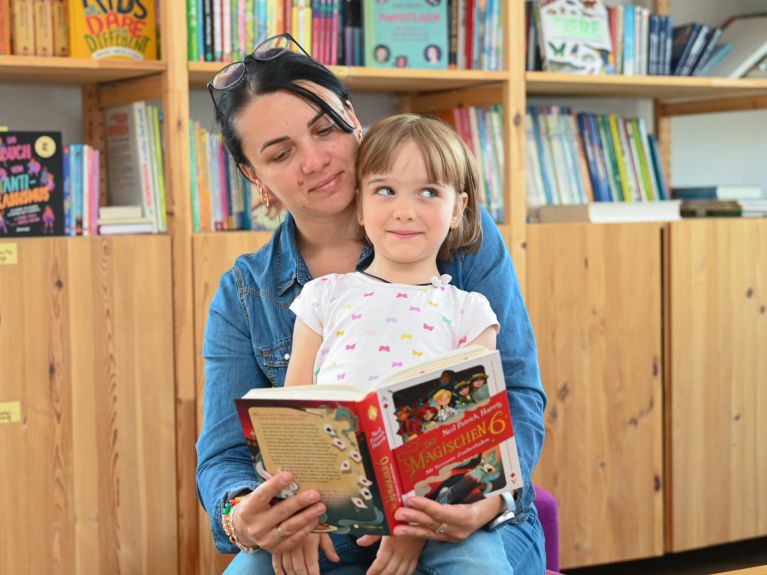 Learning German, help with finding a job or simply exchanging ideas and experiences with others: since Russia began its war of aggression against Ukraine, many initiatives have been offering refugees from Ukraine help in their everyday lives. One of them is Mädchenbüro Milena in Frankfurt am Main, which has been supporting women with a migrant background for years. We talked to three Ukrainian women about their experiences, plans and dreams. 
Anna Zolotukhina
"No matter what happens, you can come here every day and meet people," says Anna Zolotukhina, talking about Mädchenbüro. The young English teacher is in Germany alone as her parents stayed back in the heavily embattled city of Dnipro. The 21-year-old is studying English language and literature so that she will be able to teach children again.
Svitlana Dutchuk
Svitlana Dutchuk dreams of becoming a lawyer. To enable her to study law in Germany, she is now learning German in an intensive language class at Mädchenbüro. The 20-year-old initially came to Frankfurt on her own in January 2022, one month before the outbreak of war. In March she was joined by her mother. Svitlana is not only learning German at Mädchenbüro, she has also made a good friend there: "We celebrate birthdays and go and eat cake after class."
Olena Sushych
Olena Sushych came to Germany with her three children from Mariupol in March 2022. They stayed in a hotel at first, but soon found a flat. At Mädchenbüro she learns German while her children are taken care of: "I am happy that there is a place for us here." 
You would like to receive regular information about Germany? Subscribe here: