Civilian assistance for war victims
Wide-ranging support for Ukraine and its population. This is how Germany is helping the victims of the Russian attack.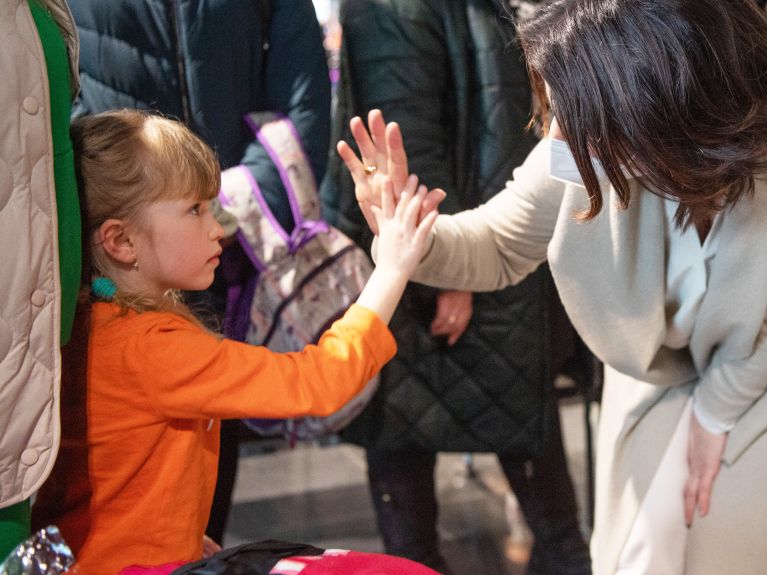 The Russian war against Ukraine has brought inconceivable hardship and misery to the country. Russia has made terror against the civilian population the main focus of its attacks: day after day, night after night, civilian infrastructure such as residential buildings, railway stations, industrial facilities or power plants is being attacked by drones and missiles. Germany was already one of Ukraine's biggest supporters even before the Russian assault on 24 February 2022. Read here what has been done since the beginning of the war.  
What kind of civilian assistance is Germany providing? 
The direct civilian assistance from the German government has been stepped up multiple times to over nine billion euros since the start of the war. In addition, there are Germany's contributions to the aid provided by the EU. Some of this money flows directly to Ukraine and is made available to aid organisations or used to support Ukrainian war refugees in Germany. Then there are private donations, which though difficult to calculate are certainly substantial, plus a wide range of support from companies and numerous offers of help from associations and twinned cities. Aktionsbündnis Katastrophenhilfe, a disaster relief alliance comprising the organisations Caritas, the German Red Cross, Diakonie Katastrophenhilfe und UNICEF Germany, has raised 364 million euros on its own.  
What concrete form is the help taking? 
Here is just one small example of Germany's wide-ranging civil society engagement: when war broke out, radio presenter Werner Reinke from the regional broadcaster hr1 in Hesse spontaneously called for donations during his Saturday show, and has since raised more than 1.25 million euros. And one more: a large Frankfurt-based family-run business rented an entire modern hotel in a central location that to this day has been home to around 150 refugee families.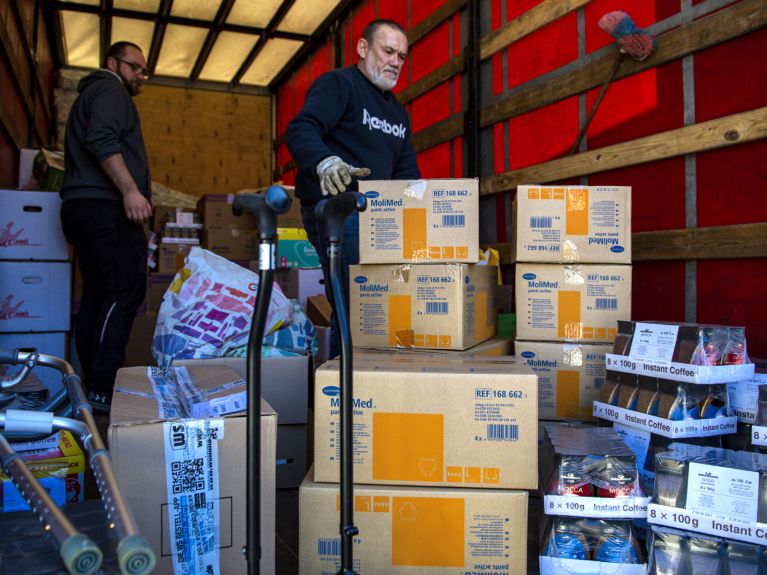 What is the breakdown when it comes to state assistance?  
The lion's share of Germany's state assistance for Ukraine is coordinated by the Federal Office of Civil Protection and Disaster Assistance (BBK). This primarily involves large-scale donations of medical drugs and equipment, though the BBK also coordinates the transport and transfer of Ukrainian war victims for treatment in German hospitals. The country's federal ministries also provide direct humanitarian aid and disaster relief in Ukraine, however – including support with reconstruction.  
First and foremost, it is institutions in the federal states or municipalities themselves that support the more than one million refugees who have fled to Germany, helping them to find accommodation, obtain social welfare benefits, arrange childcare and attend school. More than 200,000 refugee children are now at school in Germany, with dedicated Ukrainian teachers and support personal being engaged in many places.  
A regularly updated overview in German of the state assistance provided by Germany can be found here.
You would like to receive regular information about Germany? Subscribe here: