"There must be no impunity"
Responses to a changed world: Ambassador Heusgen talks about the consequences of the epochal turning point.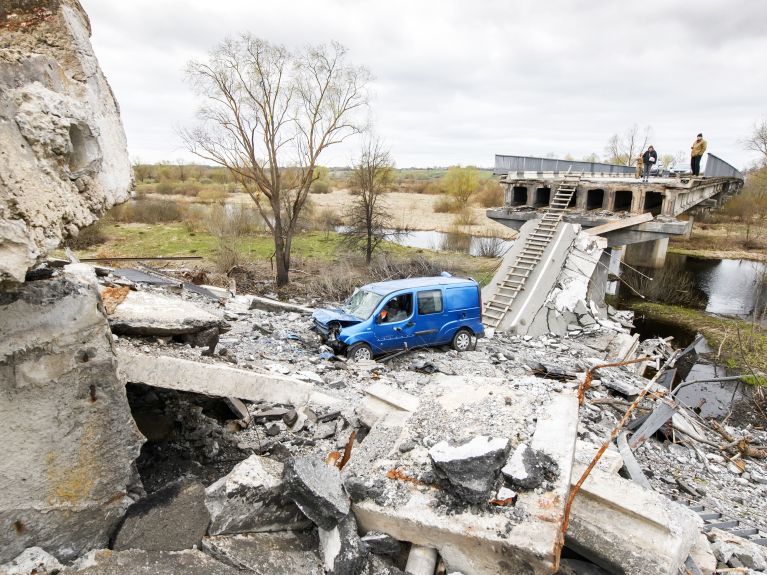 Ambassador Heusgen, the first Security Conference after the "epochal turning point" is about to start: What has changed?
The world has been a different place since 24 February 2022, as the chancellor rightly pointed out in his speech to the German Bundestag last February, when he talked about a Zeitenwende – an epochal turning point. At the last conference, which took place just days before the start of the Russian invasion, the focus was on preventing this war at the eleventh hour.  
This year, we must ask ourselves what we can still do to counter this brutal assault on the rule-based international order. It is a question of the utmost importance because the way we answer it will dictate our ability to prevent comparable situations in the future. We must make it clear that the costs of this assault on civilisation are exorbitantly high. If we fail to do so, other states that are not satisfied with their current borders will draw their own conclusions. We can see the result of this each day in Ukraine: thousands of deaths, unbearable suffering and senseless destruction.  
In this context, the battle against impunity is a very important topic. War crimes and the crime of aggression must not go unpunished. We therefore need a special United Nations tribunal at which Putin and co. can be prosecuted for their crimes. However, we must also wage war on impunity with greater vigour in other countries, too. That is why this topic as a whole will occupy an important place on the main stage of our conference. 
EU, Nato and the G7 are standing united by Ukraine's side. But how significant is it that the reaction worldwide is not as uniform?
A united stance is of central importance, regardless of whether it is a question of sanctions against Russia, efforts to reach a diplomatic solution, economic support for Ukraine or weapons deliveries. We Europeans can count ourselves lucky in this respect that the Americans, led by Joe Biden, have been standing and continue to stand so firmly by our side. 
However, there is simply no globally united front opposing Putin. 35 countries abstained during the UN General Assembly votes that condemned the Russian aggression. Two thirds of the world's population live in countries that are either neutral or pro-Russian. People in many states of South America, Africa and Asia are taken in by the Russian and Chinese narratives claiming that the USA and Nato are to blame for this terrible war. In many respects it is easy to gain the impression that we find ourselves in a new East-West conflict in which the countries of the Global South are once again the ones who suffer. 
We must resolutely counter this impression. We must explain time and again that this is not a conflict between East and West, but a battle between the supporters and opponents of the rule-based international order. Taking the side of the opponents, and as such opposing the fundamental principles of the rule-based international order such as territorial sovereignty, is tantamount to shooting oneself in the foot. Neutrality on this fundamental question should not be an option, as it is the equivalent of failing to help a person in danger.  

The transatlantic partnership will also take centre-stage at this year's Security Conference. How do you view relations between Europe and the USA? 
The transatlantic partnership has been an integral part of the Munich Security Conference's DNA since the very beginning. This year it is even more important, which is why I am so pleased that a high-ranking and indeed the historically largest US delegation is expected in Munich. Our American friends have demonstrated great strength of leadership during the course of the Ukraine war. Its military support for Ukraine is ten times that provided by Germany.  
We should not delude ourselves, however. The American security strategy over the past year has made no bones about the fact that China remains the number one threat to the USA, even if Russia currently poses an acute danger. There are growing expectations that Europeans, people in Ukraine, and more generally those in America's neighbouring countries, should assume more responsibility. At the same time, the political pressure on President Biden at home to take a tougher stance in this respect is also increasing ahead of the presidential elections.  
It will become harder and harder to explain why the Germans, despite repeated promises, are still not spending the two percent of GDP on defence that was agreed within the framework of Nato. If a less pro-European US government comes into power, we cannot count on the Americans always being on board, as the German government has been demanding for example when it comes to supplying Leopard battle tanks. Such expectations will meet with an increasingly poor reception in Washington.  

Which challenges for Germany and Europe does Beijing's Taiwan policy pose?
At the most recent congress of the Communist Party, China's President Xi officially stated that he was willing if necessary to use military force to annex Taiwan. We can see from Hong Kong and the situation in the South China Sea that Beijing is prepared to flout international agreements. The USA is actively preparing for a possible annexation of Taiwan. President Biden has already said that he would also provide military support to Taiwan in this case. We Europeans would be on the side of the Americans, though we lack the capacity to play any substantial military role in such a conflict in this region.  
The economic consequences of this would hit us very hard. We must prepare ourselves for such a scenario by dismantling unilateral economic dependencies. This is a clear lesson to be learnt from our relations with Russia. We can no longer leave ourselves so susceptible to blackmail. What was oil and gas in the case of Russia would for example be rare earths and solar cells in the case of China. We must therefore forge new alliances to ensure that the green transition, which is so important, does not make us vulnerable elsewhere.  
Ambassador Christoph Heusgen has been the chairman of the Munich Security Conference since 2022. A diplomat, he advised German Chancellor Angela Merkel from 2005. From 2017 to 2021 he was Germany's permanent representative to the United Nations, in which capacity he chaired the UN Security Council in April 2018 and in July 2020. The Munich Security Conference (MSC) is the world's leading informal security policy forum. 
You would like to receive regular information about Germany? Subscribe here: