Help for women and children
At Mädchenbüro Milena in Frankfurt Ukrainian women can learn German while their children are looked after.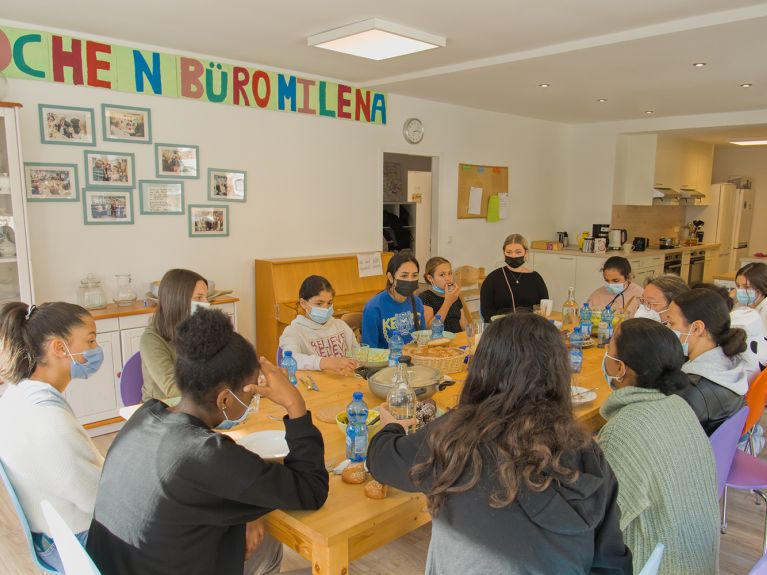 "Take some time to settle down now you've arrived" is the motto of Mädchenbüro Milena, an association in Frankfurt that supports girls and women. Every day new Ukrainian women come to its bright sunlit premises to attend free German courses or use its childcare service. At the moment there are over 40 women here, says Maneesorn Koldehofe, who founded Mädchenbüro Milena in 2014. Normally most of the projects here aim to empower girls and women with migrant backgrounds. The war in Ukraine is confronting staff with additional challenges: at very short notice they had to organise volunteers for German courses and additional childcare. In addition they are also supporting the refugees in their dealings with authorities.
Offering orientation
Large numbers of Ukrainian women have fled with their children and now have to support them alone. That does not leave them much time for language courses. Milena would like to work against that in order to enable participation. Natalia is among the first group of roughly 15 participants. She comes from Kyiv and is living with friends in Frankfurt with her little sister. "My mother is still there; she didn't want to leave my father behind alone," explains the 24-year-old. She says learning the language is important so she can find her feet. Maneesorn Koldehofe believes, however, that that's not the only reason: "Nobody knows how long the war will last. We can't make any long-term plans." At Mädchenbüro Milena the women are at least able to talk, exchange information and make contacts in a foreign world.
Communicating normality
In Claudia's language course hardly any objects are left without labels: "die Pflanze" (the plant), "Fenster auf/zu" (window open/closed), "Licht an/aus" (light on/off). Participants laugh a lot during class. Women with good knowledge of English translate the sentences into Ukrainian for others. They improvise a lot, but they are not here to get good grades in German. After just two weeks Natalia is already able to say a few sentences with perfect grammar. While the women are learning, the children are looked after. Some of them are traumatised, so great sensitivity is required. Above all, "calm exercises" like colouring in mandalas aim to offer the children a little distraction.
Letting people find their feet
The staff here encounter families that are totally exhausted after six days on the run. Others help the Ukrainian women complete forms that ask about fathers, some of whom are no longer alive. "We all notice the children's reactions. That doesn't leave any of us unmoved," says Koldehofe about their new daily routine. They suppress tears of empathy and the urge to ask too many questions. Mädchenbüro Milena would like to give those seeking sanctuary the space to arrive, collect their thoughts and find their feet. Sometimes that means just being there.