The United Nations climate savers
The UNFCCC is the largest UN secretariat in Bonn. Its job is nothing less than stopping climate change.
"This city has developed into the climate protection capital of the world", said the present Federal President, Frank-Walter Steinmeier, about the German UN city of Bonn. This is mainly owing to Bonn's being the seat of the United Nations Climate Change Secretariat (UNFCCC/United Nations Framework Convention on Climate Change) since 1996.
"I think there's no way to achieve the goals of climate policy without including sustainability goals. It works the same the way around as well. We want to work in partnership with all actors in this process." Patricia Espinosa, Executive Secretary of the UNFCCC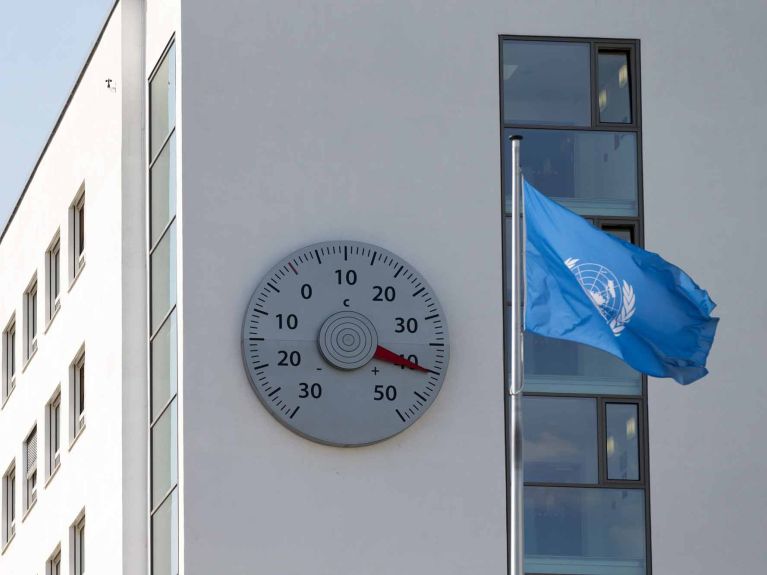 With around 450 employees, the UNFCCC is the largest UN organization in Bonn. The Climate Secretariat has the task of limiting the greenhouse gas concentration in the atmosphere to the values set in the Kyoto Protocol and at the Paris Environment Summit.
"The world is watching our work very closely, even during this pandemic. Let's not kid ourselves – climate change isn't taking a break. We have overwhelming evidence of climate change. It remains the greatest challenge of this generation, even now as we are grappling with the aftermath of the pandemic. Vaccinations against Covid have been developed to help us fight the pandemic; unfortunately there are no vaccinations against climate change. The UNFCCC has been given the responsibility of directing and supporting global efforts in this extraordinary challenge." Patricia Espinosa
The Secretariat also supports states and institutions in developing technologies to protect against the consequences of climate change.
"Far too often, people who are particularly affected [...] have the worst opportunities to respond appropriately to climate change. [...] We have to bring as many voices as possible to the table to talk about climate change: to practice what we call inclusive multilateralism." Patricia Espinosa
The Mexican diplomat Patricia Espinosa Cantellano has been Executive Secretary of the UNFCCC since 2016. Previously, she served as Mexico's ambassador to Germany and her country's foreign minister, among other posts. Under her leadership, the UNFCCC has advocated stronger climate protection in all parts of society, including cities, regions, the private sector and the investment business.
"What we want is always subordinate to what is needed. And what is needed is the one thing that has not changed: the need for constant and consistent progress and the adherence to and fulfilment of the commitments we made in the Paris Agreement." Patricia Espinosa
You would like to receive regular information about Germany? Subscribe here: