Why do young people join the jihad?
"Discrimination is not the only reason", says Claudia Dantschke from the Hayat initiative. She helps youngsters leave radical groups.
20.07.2017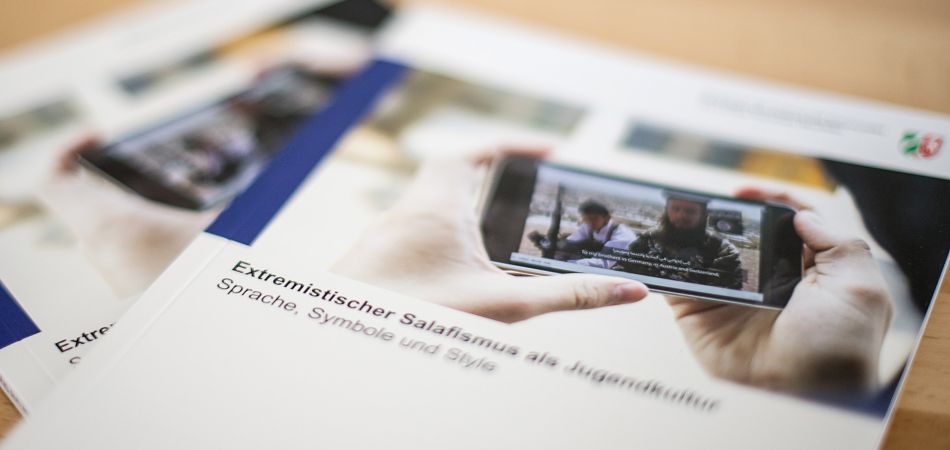 Ms Dantschke, why is it so important nowadays to have an advice centre like Hayat?
For some years now, we have been observing growing radicalisation in the area of political Salafism, and in some cases also of militant Salafism, that is to say jihadism. 9/11 and subsequent developments focused public attention on issues such as Islam and the jihad. In the years after that, and above all between 2002 and 2004, radical Salafists moved out of their conspiratorial circles and into the public domain, undertaking missionary work in many cities and also discovering the potential of social media. Facebook, Twitter, messenger services and chat forums have hugely increased their range and their target group.
What kind of numbers are we talking about?
According to Germany's Federal Office for the Protection of the Constitution, there are currently 10,000 political Salafists in Germany, of whom 1,600 are considered to be militant and 690 are thought to pose a threat. The Federal Office believes that the latter would be willing to carry out terrorist offences. Many of them have travelled to Syria or Iraq.
The language used to address the target group and the visual imagery employed follow the rules of pop culture:
You coined the term "pop jihadism". What do you mean by that?
Since around 2011, a radical Salafi youth subculture has been evolving in western Europe that is active in its own right without mentors or sheiks. Their message is radical – but the way it is conveyed through social media, the language used to address the target group and the visual imagery employed follow the rules of pop culture: short hip video clips featuring raps and the kind of imagery found in computer games or apocalyptic films. This exerts a huge pull – especially since the protagonists are just as young as the target group.
Where does Hayat come in?
Radicalisation takes place on three levels, and Hayat tackles what is known as the micro level – a person's immediate family environment. We base our approach on the fact that parents, siblings and relatives, or indeed teachers and social workers, will be the first to notice when a person begins to change. They are in direct contact, and with them we can discover what has caused the radicalisation process. We have to look at what is going wrong on this level, and address those issues first. The family environment can be the key to changing something. If that proves successful, we have already achieved a lot. This approach works so well that it has meanwhile been adopted by many European countries.
The meso level encompasses the wider social environment, that is to say a person's school or a youth organisation. Community and acknowledgement play an important role here, for example.
The macro level is the big picture – national and international politics. Polarising discussions such as "Does Islam belong in Germany?" can make young Muslims feel insecure and prompt them to question whether they actually belong in Germany. Discrimination at the meso or macro level is certainly not a cause of radicalisation on its own – however, if someone is already beginning to feel emotionally alienated at the micro level, this may push them over the edge.
What are the circumstances that favour radicalisation?
There are two typical approaches to upbringing that can be observed time and time again with radicalised youngsters: an authoritarian upbringing, or indeed the opposite – which I call emotional alienation. In the latter case the young person in question is left to his or her own devices and has the feeling that nobody is interested in them. This may be the case for example in families in which the parents are divorced. The critical age span is from 16 to the mid-20s. Radicalisation affects young men and women from all social strata, nationalities and cultures, regardless of whether they are of migrant origin or Muslim or not. Salafists offer a great deal on the emotional level: acknowledgement, acceptance, clarity, identity, superiority, a sense of community. Acceptance has nothing to do with one's origin, but with the extent to which one subjects oneself to the rules of the new group. This raises an important question: as a society, we have to think about how we want to reintegrate individuals who have disassociated themselves from radical groups. How willing are we to accept and integrate them again? What future prospects can we offer them?
In 2011, Claudia Dantschke founded the Hayat initiative, which means "Life". Since 1 January 2012, Germany's first advice centre for individuals who have become radicalised by Salafism or militant jihadism, and for their families, has provided support for nearly 400 people. Since 2012, the Advice Centre on Radicalisation at the Federal Office for Migration and Refugees (BAMF) has operated a telephone hotline. Claudia Dantschke was awarded the Ingeborg Drewitz Prize by the civil rights organisation Humanist Union (HU) in 2010.
http://www.hayat-deutschland.de/