Baerbock: International community is standing together
Germany's foreign minister sees the condemnation of the Russian attack on Ukraine in a UN resolution as a clear statement from the international community.
03.03.2022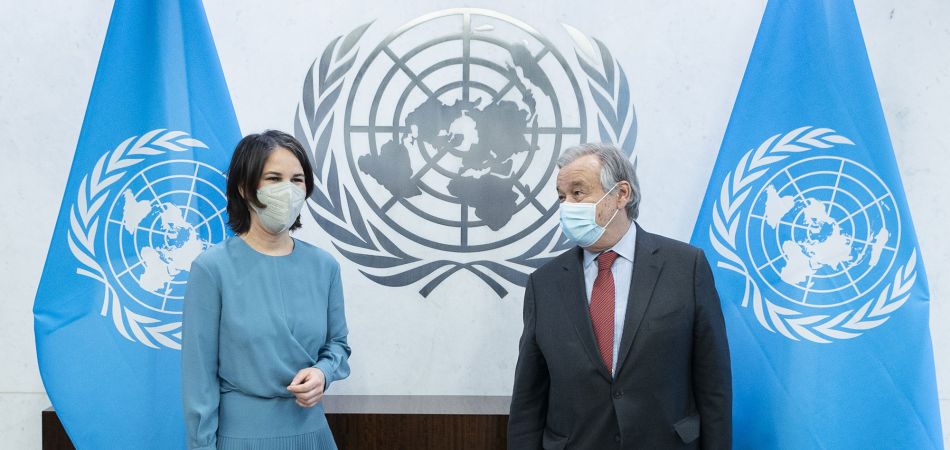 New York (dpa) In a UN General Assembly almost all of the world's states have condemned Russia's attack on Ukraine by a historically large majority. "This is the United Nations saying loud and clear: when our peaceful order is under attack, we stand together and act," declared Foreign Minister Annalena Baerbock. She had previously made an urgent appeal to the international community in a speech to the UN Assembly: "Now, we all have to choose. Between peace and aggression. Between justice and the will of the strongest. Between taking action and turning a blind eye. "
The vote at the UN General Assembly in New York saw 141 members support the resolution against Russia - far more than in previous conflicts of a similar nature. 35 countries abstained, and only five states opposed the resolution. Before the largest body of the United Nations with its 193 members, the Western allies thus highlighted the international isolation of Russian President Vladimir Putin.
"Russia's war marks the dawn of a new era," Baerbock said. "It's a watershed moment. Yesterday's certainties are gone. Today, we face a new reality that none of us chose." It is a reality that Russia's President Vladimir Putin has forced upon us, she said.
"Your tanks are not bringing water, your tanks are not bringing nutrition for babies, your tanks are not carrying peace. Your tanks are carrying death and destruction," Baerbock said, addressing Russia's Foreign Minister Sergei Lavrov. "You can deceive yourself. But you won't deceive us. You won't deceive our people – and you won't deceive your own people."
Before her speech, Baerbock had already warned that it was a matter of making it clear that the world community would not accept a war of aggression: "When it is a question of war or peace, no one can be neutral." One must decide whether one is on the side of the aggressor or on the side of "families, of children hiding in underground shafts from bomb and missile attacks".
The complete speech here