Baerbock emphasises Importance of European unity
Germany's foreign minister discusses Russia's attack on Ukraine with her counterparts from Poland and France. 
01.03.2022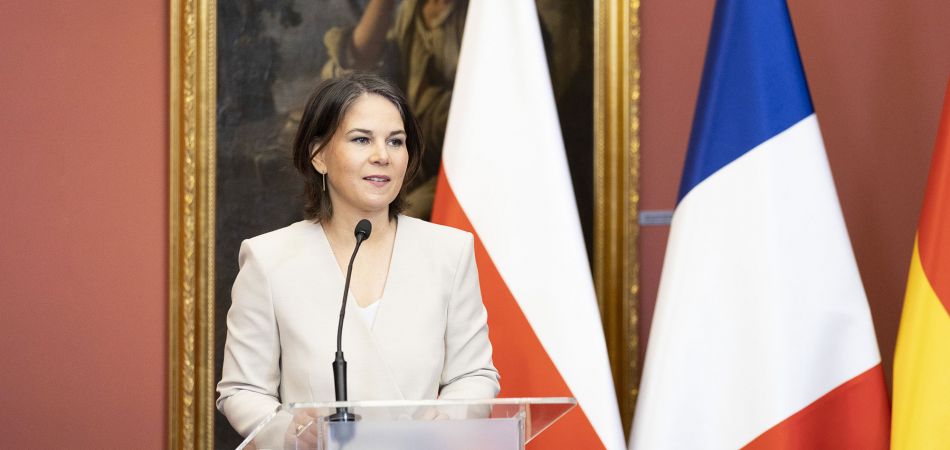 Berlin (dpa)-Foreign Minister Annalena Baerbock has emphasised the importance of European unity in the face of the Russian war of aggression on Ukraine. "In its most difficult hours, Europe is standing extremely close together - closer than many would have believed possible of us," Baerbock said at a meeting on Tuesday with Polish Foreign Minister Zbigniew Rau and French Foreign Minister Jean-Yves Le Drian in the Polish city of Lodz.
The minister criticised Russian President Vladimir Putin, saying that his war of aggression against Ukraine shows that he no longer respects any rule. "Our unity has therefore become a matter of survival for Europe today." If Germany, Poland and France pull together, as they are doing now in supporting Ukraine, then "Europe will pull together". That is why she believes it is "a good moment to continue the work in the Weimar Triangle". The tripartite meetings of representatives of Germany, France and Poland in the so-called "Weimar Triangle" have been taking place for 30 years.
Following the meeting in Poland, Baerbock was planning to travel to New York to attend the emergency special session of the United Nations (UN) General Assembly on the war in Ukraine. The meeting is only the eleventh such emergency session in more than 70 years.