Baerbock promises Yazidis reconstruction aid
Germany's foreign minister promises Yazidis support with reconstruction and with prosecuting the perpetrators of the IS terrorist militia.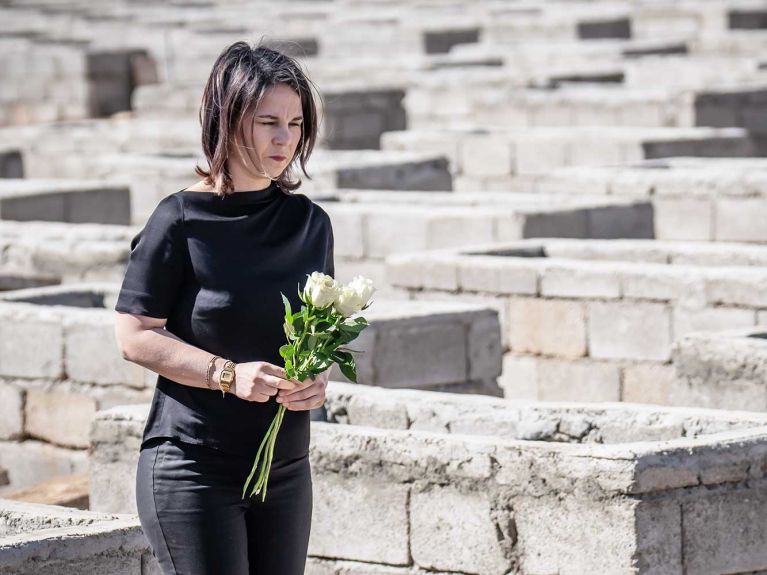 Kocho (dpa)- Germany's Foreign Minister Annalena Baerbock has promised to support the Yazidis in Iraq with reconstruction and prosecuting the perpetrators after the genocide committed by the Islamic State (IS) terrorist group. "Kocho is one of those places where the evil in this world has shown its face," the politician said during a visit to key sites of atrocities in the Sinjar region close to the Syrian border. "We can never bring back these fathers and mothers, these children. But we can ensure that the perpetrators of these brutal crimes are held accountable."
On 15 August 2014, IS fighters in Kocho had rounded up and executed the men, boys and older women following a twelve-day siege of the school in the Yazidi town. Other women and girls were abducted and sold into sexual slavery. To this day, many of the families are still living in refugee camps in the Kurdish autonomous region. Kocho is the home town of the Yazidi human rights activist and Nobel Peace laureate Nadia Murad.
The United Nations and the German Bundestag – the country's parliament – have condemned the crimes committed against the Yazidi people by IS as genocide. The militia had murdered more than 5,000 Yazidis in total in the region. Ten thousands were killed, abducted and enslaved.