Baerbock visiting Ukraine
During a visit to the capital Kyiv, Germany's Foreign Minister Baerbock has pledged continuing support to Ukraine.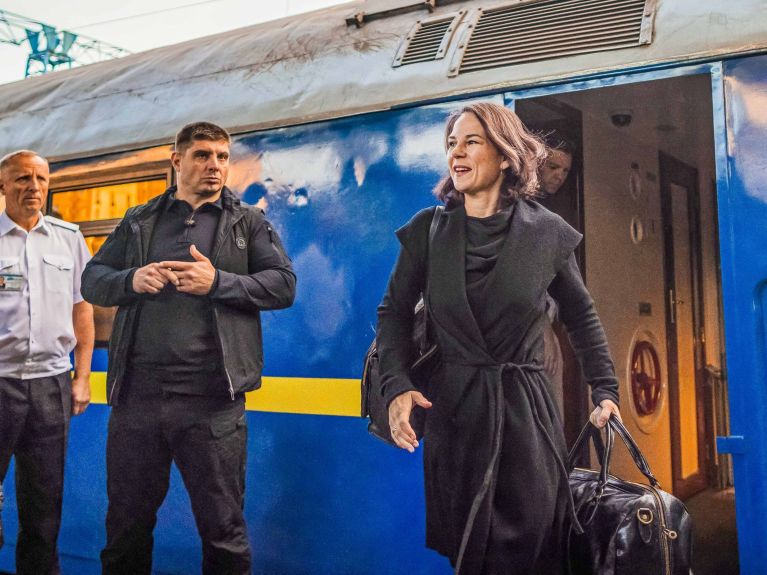 Kyiv (dpa) – Germany's Foreign Minister Annalena Baerbock visits Ukraine for fourth time since Russia began its war of aggression in February 2022. The minister arrived in the capital Kyiv on Monday morning. On arrival, she pledged continuing support for Ukraine, including on its path to European Union membership. She said that Ukraine was also defending "the freedom of all of us. Just as Ukraine is placing itself before us, it too can rely on us" - for example on Germany resolutely supporting Ukraine on its way into the European Union.
Amid ongoing Russian attacks on the country's infrastructure and energy supply, Baerbock said that the EU wanted to connect its energy network even more closely with Ukraine's. Families should not have to fear for their supply when Russia's President Vladimir Putin targets the country's electricity substations. Germany will not let up in its efforts to "support Ukraine in its defence against Russia's aggression: economically, militarily, and in the humanitarian sphere".
The last time the foreign minister visited Ukraine was in January, when she was the first German cabinet member since the beginning of the war to travel to eastern Ukraine, which is close to the Russian border, and visit the long and fiercely contested city of Kharkiv. Previously, she had been to Kyiv twice after the war started in February 2022 - in mid-May 2022 as the first member of the Federal Cabinet and in mid-September of last year.