Biontech to produce in Africa
The Mainz-based company Biontech plans to produce its novel mRNA vaccine in modular container-based production facilities in Africa.
16.02.2022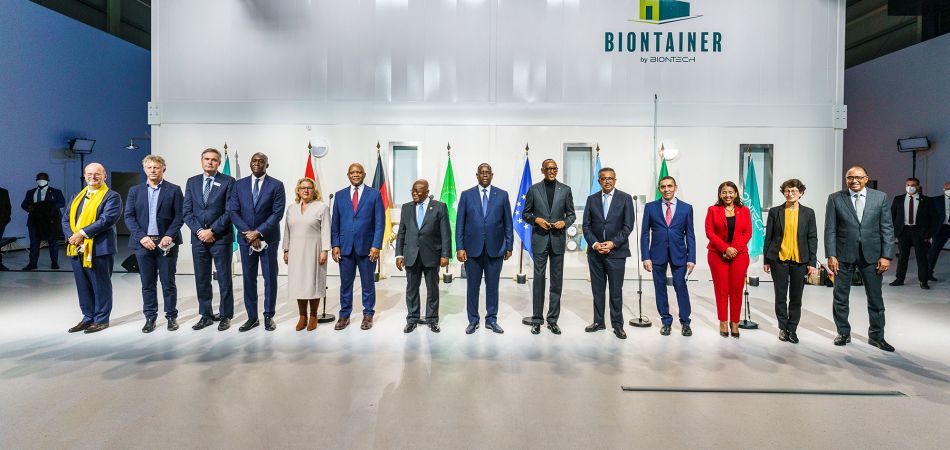 The Mainz-based company Biontech plans to use mobile production facilities to drive forward the production of coronavirus vaccine in Africa. In mid-February, it unveiled the modules for such facilities in the Hessian city of Marburg. Large-scale production of Biontech's coronavirus vaccine is already underway in Marburg.
As Biontech explained, one such mobile production facility for mRNA vaccines is made up of two modules, each comprising six containers. According to the company's statement, the two modules require around 800 square metres of space and are big enough to house all the equipment needed for the production process. Biontech says they will have the capacity to produce up to 50 million doses of the Pfizer/Biontech coronavirus vaccine per year. They will also be suitable for possible future vaccines against malaria or tuberculosis from Biontech, once these have been developed, approved and authorised.
The plan is to ship the production facilities to Rwanda, Senegal and possibly South Africa, liaising closely with the respective country and the African Union, Biontech added. The first facility is set to arrive in Africa in the second half of the year. Production is expected to commence twelve months after delivery to the destination, it said. Partners in Ghana and South Africa could support the production with capacities for filling and packaging, according to Biontech.
Those present when the modules were unveiled in Marburg included the presidents of Rwanda, Ghana and Senegal - Paul Kagame, Nana Akufo-Addo and Macky Sall - World Health Organization (WHO) Director-General Tedros Adhanom Ghebreyesus, as well as Federal Development Minister Svenja Schulze (SPD). In a statement, Akufo-Addo spoke of a "significant day for Mother Africa". The aim is to achieve independent vaccine production "to meet future national, regional and continental health security needs".
EU Commission President Ursula von der Leyen called Biontech's initiative a "real game changer in our global fight against the pandemic", according to the statement. WHO Director-General Tedros welcomed Biontech's initiative "to increase vaccine production in Africa" and "to complement the WHO hub" for the transfer of mRNA technology.
Initially, Biontech plans to operate and staff its container facilities itself in order to support "the safe and expeditious" start of vaccine production "in strict compliance" with guidelines. The knowledge is to be passed on to local partners "to enable the independent operation of the production facilities". The vaccines produced in the facilities are intended for domestic use and for export to other African Union countries at a non-profit price.
Coronavirus will also be a major topic at the upcoming EU-Africa Summit, which will see the leaders of the European Union and the African Union meet in Brussels on 17 and 18 February. "If we want to defeat the pandemic, we need a global vaccination perspective," says Han Steutel, president of the German Association of Research-Based Pharmaceutical Companies. Many original manufacturers of vaccines and their production partners are working to be able to deliver even more vaccine doses per month. "In the long term, however, it is important for Africa to be able to build up its own vaccine supply," Steutel adds.
(with dpa)
More about research and innovation in Germany