Conclusion of Church Assembly
121,000 people attended the German Protestant Church Assembly, that took on many pressing issues.
24.06.2019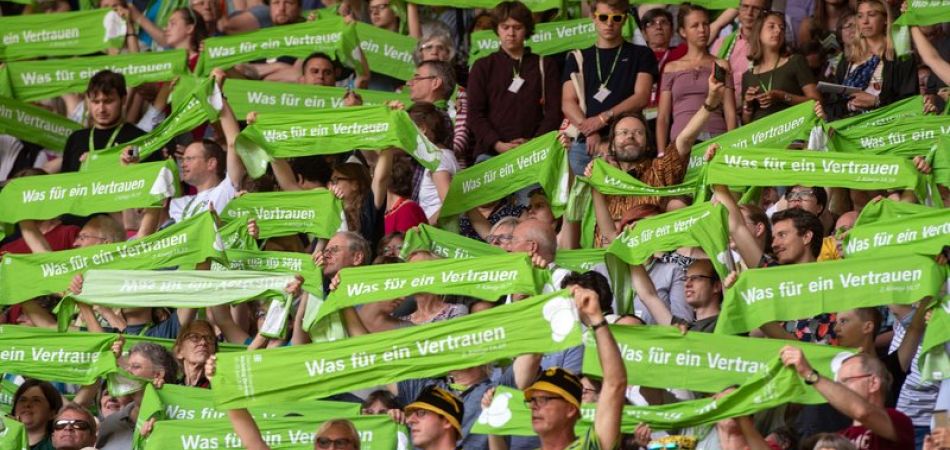 Dortmund (dpa) - The 37th German Protestant Church Assembly held at the football stadium in Dortmund wound up its five-day event with an open-air church service on Sunday. Before the 32,000 visitors - along with a further 5,000 people from the nearby Westfalen park - began making their way home, Council of Churches president Hans Leyendecker issued this appeal: "Let us go and make our world more charitable."
The congress attended chiefly by socio-liberal Christians took a clear position this year - for stronger efforts against the right-wing, a more human refugee policy, greater protection for the climate, and gender equality.
The five-day congress attended by 121,000 persons met under the slogan "What Trust" and it did see a fair amount of small talk. But at the same time the Dortmund event took on many major and pressing issues. The Mediterranean Sea as a "cemetery of human rights" was one of the urgent images. German Protest Church council president Heinrich Bedford-Strohm, hand-in-hand with Palermo mayor Leoluca Orlando, appealed to European countries to take in refugees who had been rescued at sea.
Germany's two Christian churches - Protestant and Catholic - can certainly use some fresh input brought by this major event, for their membership numbers are steadily shrinking. One projection is that, from a combined membership of 44.8 million in 2017, the churches' members will be only one-half that by the year 2060.