Construction work begins on liquefied natural gas terminal
Germany wants to quickly create alternatives to Russian natural gas. Economics Minister Habeck is hoping for a "bold statement".
05.05.2022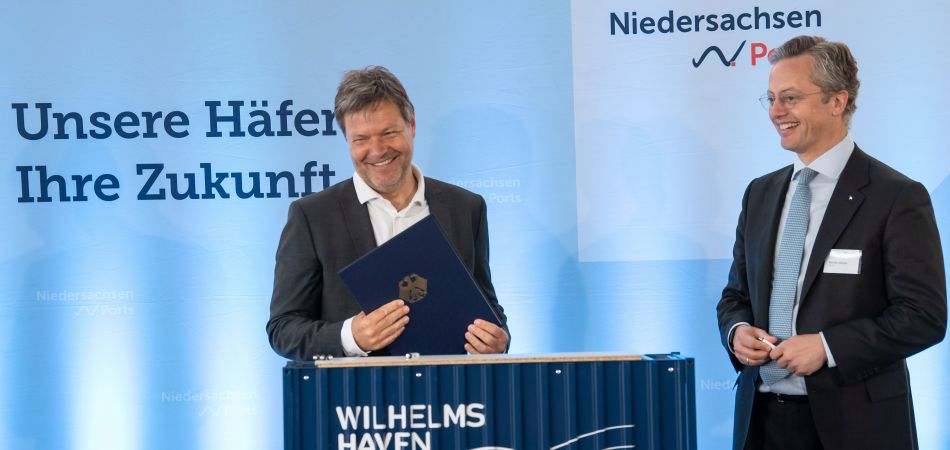 Wilhelmshaven (dpa) - In Germany, the fast-tracked construction of import terminals for liquefied natural gas is picking up speed so that alternatives to Russian pipeline gas can be created as quickly as possible. Work on the planned floating terminal for liquefied natural gas (LNG) began on Thursday in Wilhelmshaven on the German North Sea coast when the first pile was driven in in the presence of Federal Economics Minister Robert Habeck. It is hoped that the first tankers carrying deep-frozen LNG will dock at the new terminal by the end of this year. The LNG will then be heated there and fed into the gas grid. LNG import terminals are also planned at other locations in Germany, including Stade in Lower Saxony and Brunsbüttel in Schleswig-Holstein.
"We have a good chance of achieving something that is actually impossible in Germany: to build an LNG terminal within about ten months and to connect it to the German gas supply," said Economics Minister Habeck. He had already emphasised on Wednesday that Germany wanted to make a "bold statement" with its rapid construction of the terminals. Habeck said that Germany had managed to reserve four ships on the world market, explaining that these would be available at the end of the year, marking the earliest possible time when LNG could be shipped directly to Germany.
According to Habeck, every effort must now be made to ensure that the infrastructure leading to the ships is ready when the ships arrive. The transported LNG could make an important contribution to ensuring that Germany gets through the next winter in good shape. The German government is planning a law to speed up the construction of LNG terminals.