"Engaging with our colonial history"
On the occasion of the opening of the ethnological museums in Berlin, Federal President Steinmeier urges Germans to face up to their colonial past.
23.09.2021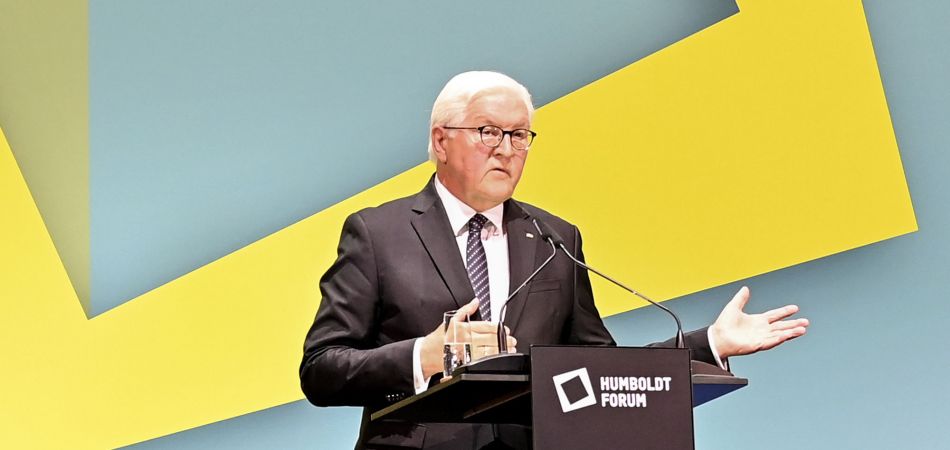 Berlin (dpa) - German President Frank-Walter Steinmeier has used the latest phase of the opening of Berlin's Humboldt Forum to appeal for shared responsibility for the consequences of colonialism. Germans also oppressed, exploited, robbed and killed people as colonial rulers, Steinmeier said on Wednesday during a ceremony to mark the opening of the first sections of the Ethnological Museum and the Museum of Asian Art. Bringing more light into the darkness in this respect is not just a task for historians, he said.
"The injustice committed by Germans during the colonial era concerns our society as a whole," Steinmeier said. "This is because in our country, even in the present day, in the midst of everyday life in this society, there is racism, discrimination, disparagement of supposed foreigners – up to and including physical attacks and violence." He remains convinced that "(w)e will only be able to understand and overcome the deeper roots of everyday racism if we illuminate the blind spots in our memory, if we engage with our colonial history to a much greater extent than we have so far!"
The first phase of the 680 million-euro Humboldt Forum's opening took place in July after years of discussions and several delays. The 40,000 square-metre building in the heart of Berlin will be shared by the museums of the Prussian Cultural Heritage Foundation, the state of Berlin, Humboldt-Universität and the Stiftung Humboldt Forum. Exhibits from Asia, Africa, America and Oceania are on display, as are objects relating to the history of Berlin.
More about culture and art in Germany