Germany and India agree on close cooperation
At government consultations, Germany's Chancellor Scholz and Indian Prime Minister Modi agreed among other things on greater cooperation in the area of climate protection.
03.05.2022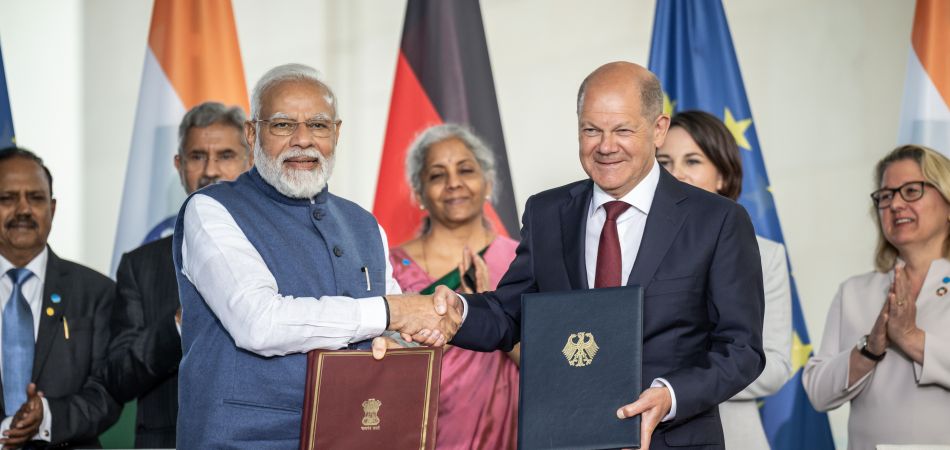 Berlin (dpa)- Germany and India want to cooperate more closely on climate protection, migration and strengthening democracy. At Indo-German government consultations in Berlin, German Chancellor Olaf Scholz and Indian Prime Minister Narendra Modi signed a total of 14 agreements for increased cooperation. The chancellor also invited Modi to the G7 Summit in June at Schloss Elmau in Bavaria. "India is a key partner for Germany in Asia – in economic, security and climate policy terms," Scholz said.
Modi particularly highlighted the closer cooperation on climate protection. "Today we are launching the Indo-German partnership on green and sustainable development," he said. The agreed projects include cooperation on hydrogen, a technology of the future. Thanks to the good conditions it offers for generating renewable electricity, India could become a globally important production location for green hydrogen in the long term, explained Germany's Federal Ministry for Economic Affairs and Climate Action.
Germany and India also agreed on a partnership deal for migration from India to Germany. According to the government, the agreement covers both legal migration and cooperation on the return of migrants. It is the first comprehensive mobility and migration agreement that Germany has negotiated with a country of origin.
India is the world's second most populous country and largest democracy, as well as a major economic player. Along with Indonesia, Senegal and South Africa, it is now one of the four countries Scholz has invited to the G7 summit at Schloss Elmau in Bavaria from 26 to 28 June. Besides Germany, the G7 includes the USA, France, the UK, Italy, Japan and Canada. Germany took over the presidency of the "Group of Seven" for one year at the beginning of January.