Germany mourns victims of bus crash
A tour bus carrying German tourists crashed on Portugal's Madeira Island, killing 29 people and injuring 27 others.
18.04.2019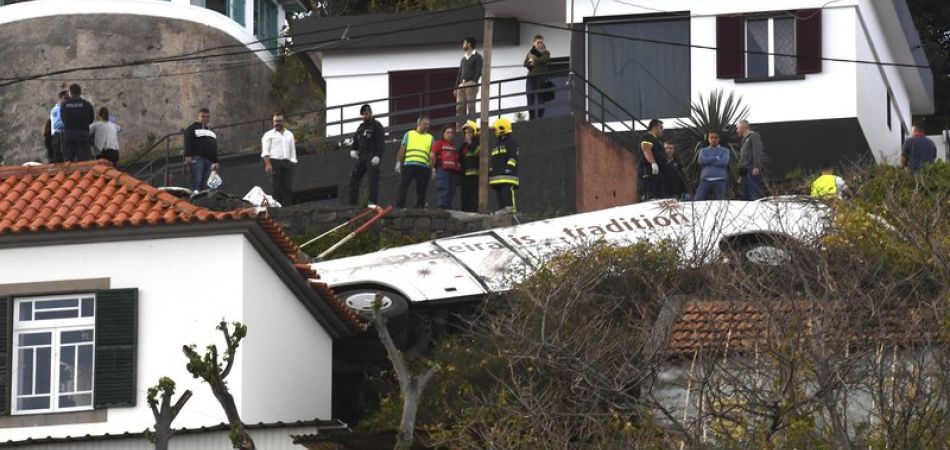 Berlin (dpa) - Germany was mourning on Thursday after a tour bus crash on the Portuguese island of Madeira left 29 people dead, most of whom were German tourists who had been on their Easter vacation.
Another 27 people were injured in the accident and taken to the hospital. Nine people have since been released, according to the hospital.
German Chancellor Angela Merkel expressed her condolences, as did other top German politicians including President Frank-Walter Steinmeier and Foreign Minister Heiko Maas. European Commission President Jean-Claude Juncker also sent his thoughts and prayers.
Portuguese President Marcelo Rebelo de Sousa said that he had been told all of the dead were German citizens, but authorities in Germany have thus far been unable to confirm this.
On Wednesday night, the bus plunged down an embankment in the coastal town of Canico east of the local capital Funchal after the driver lost control in a curve. The vehicle came to rest between a group of houses. The house that was hit was unoccupied, according to media reports.
Emergency services in Portugal had finished clearing the wreckage early Thursday. The bus was relatively new at 6 years old, and its driver, who was injured in the accident, was a 55-year-old with much experience on the job, media reports said.
The German ambassador to Portugal was on his way to the accident site on Madeira on Thursday, an embassy employee said. Portuguese media reported that the diplomat also planned to visit the victims' hotel.
The hotel operator that was hosting many of the tourists said that they came from all parts of Germany. Most of the holidaymakers were between 40 and 50 years of age, the Lusa news agency reported.
The bus was chartered by the travel agency Travel One.
A hotline for family members of the victims has been set up. According to Portuguese media, bodies of the victims were expected to start being delivered on Saturday, with identification ongoing.
It remains unclear what the cause of the accident was. Local media reported that a mechanical failure with the brakes or pedal was likely to blame. It also remains unclear exactly how many people were on the bus at the time, though local media put the number at 57.
The regional government in Madeira has ordered a three-day period of mourning on the island starting on Thursday, with flags lowered to half-staff at all public institutions through Saturday.