Lambrecht in Jordan and Iraq
Defence Minister Christine Lambrecht has visited German soldiers in Jordan and Iraq during her first trip of the new year. 
10.01.2022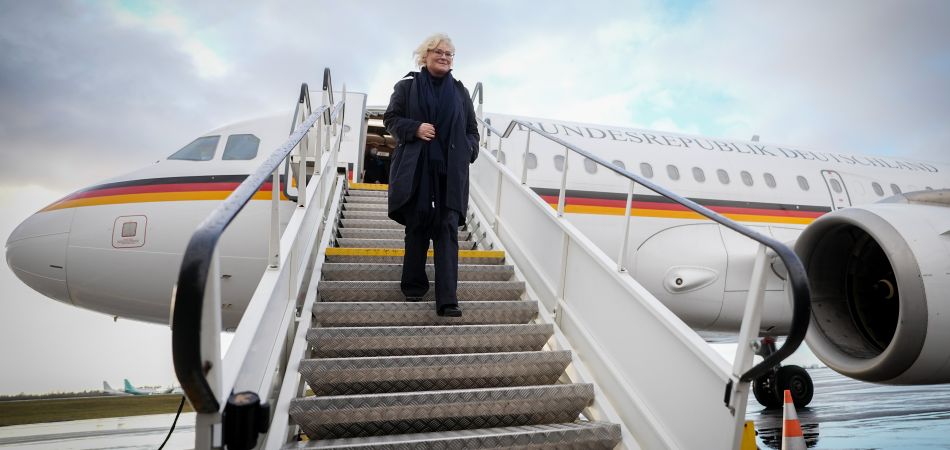 Berlin (dpa) - Defence Minister Christine Lambrecht's first trip of the new year took her to Jordan and Iraq. According to a spokesperson, she met with German soldiers in Baghdad on Sunday to learn about the Bundeswehr mission there. She also spoke with Iraqi Prime Minister Mustafa al-Kasimi and Iraqi Defence Minister Juma Inad.
Saturday had already seen the minister visit the Al-Asrak airbase in Jordan on Saturday to get an idea of Germany's involvement in the international mission to combat the militant terrorist group Islamic State (IS). She also met with German soldiers there to engage in an initial personal exchange, the Ministry of Defence announced on Twitter. According to operations command, around 150 German soldiers are currently stationed in Jordan.
The Bundeswehr is supporting the US-led anti-IS coalition there, its job being to refuel mission aircraft. Germany is currently participating in the anti-terror alliance's operations in Jordan, Iraq and over Syria with around 240 soldiers in all.
Lambrecht also spoke with Jordan's King Abullah II about deepening cooperation between Germany and Jordan. The country is an "essential anchor of stability in the region", the ministry said in a tweet.
More about Germany's commitment to peace and security