Maas visits North Macedonia
German Foreign Minister assures North Macedonia of support for EU membership and calls the country to continue carrying out reforms.
14.11.2019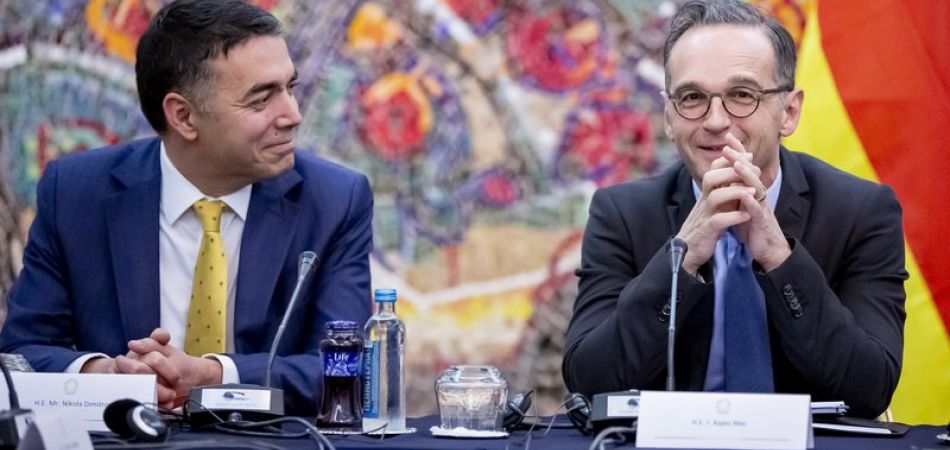 Skopje (dpa) - Germany will continue supporting North Macedonia on its European path, Foreign Minister Heiko Maas said during a visit to Skopje, after the EU failed to deliver on its promise to launch membership talks.
"Germany can be relied upon in this," Maas said in a joint news conference with North Macedonian counterpart Nikola Dimitrov.
North Macedonia changed its name from Macedonia this year to end a decades-old dispute with Greece, an EU and NATO member that had insisted that that name Macedonia belonged to its modern-day and ancient Hellenic province.
The name change was a condition set out by EU leaders for the former Yugoslav republic to join NATO and begin EU membership talks. But last month, EU leaders failed to reach a consensus on starting accession talks with North Macedonia.
The talks were blocked by France, Denmark and the Netherlands, who said North Macedonia and Albania needed to further reform their administration and the justice system.
Paris further argued that the EU accession process is in need of reform, and that the EU should focus on getting its own house in order before considering new members.
"For anyone who manages to reach a painful compromise with neighbours, who embarks long-term reforms, we must open the EU doors, that is in the spirit of the European project," Maas told reporters. "Nobody in the EU questions North Macedonia's membership perspective."
Earlier, before departing Berlin, Maas said Germany wants the EU to keep its promise to North Macedonia and Albania. "It is not just for our credibility but is also in our strategic interest for a stable and secure region in the heart of Europe."
"We continue to share the goal of opening EU membership talks soon," Maas said. "It is important to take the expectations and hopes of the people in North Macedonia into account."
The German top diplomat added that the North Macedonia must continue carrying out reforms and improving the rule of law.
North Macedonians felt particularly betrayed when accession talks were blocked despite the name change, which many found humiliating.
Prime Minister Zoran Zaev, who pushed the name agreement past fierce opposition in his country, called early elections last month in the wake of the disappointment, warning that each delay strengthened the nationalists who opposed the deal with Greece.
Zaev also warned that by wavering, the EU leaves the region open to Russian and Chinese influence.