Merkel's farewell visit to Israel
On her last visit to Israel as German chancellor, Angela Merkel has urged future German governments to take responsibility for Israel's security.
11.10.2021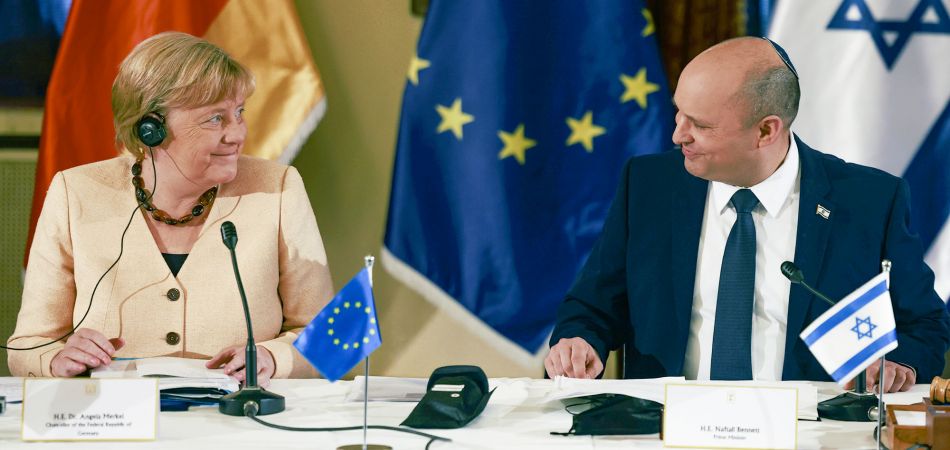 Jerusalem (dpa)- German Chancellor Angela Merkel has described Israel's security as a "central issue" for future German governments as well. "Germany is not neutral when it comes to questions of Israel's security; Israel's security forms part of our reason of state," she said in Jerusalem on Sunday. She added that this applies even where there is disagreement on individual issues. Every German government will feel committed to this, she said, as well as to the fight against anti-Semitism.
This is Merkel's seventh bilateral visit to Israel: she was first there in 2006, and most recently three years ago. The chancellor is held in high esteem in Israel. During her farewell visit to Jerusalem, Merkel also visited the Yad Vashem Holocaust memorial, where she laid a wreath in the presence of head of government Naftali Bennett. "Every visit to Yad Vashem touches me anew to the core," she wrote in the guest book. "The crimes against the Jewish people documented here are an everlasting responsibility and reminder for us Germans."
Israel's head of government Bennett praised Merkel as being the "moral compass of the entire European continent" and a "true friend of the Jewish state of Israel". President Isaac Herzog surprised Merkel with a special gift: the establishment of an honorary fellowship in her name for outstanding female scientists at the Weizmann Institute, one of the world's leading research institutions.
More about peace and security