16.04.2018
Murals – street art in Berlin
The city's building boom is having unexpected consequences for the art that adorns its facades.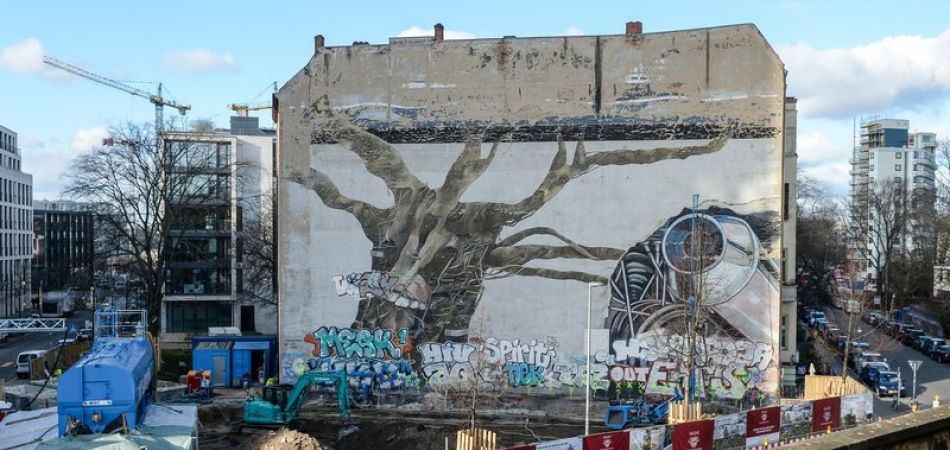 Berlin (dpa) - In the depths of a bitter winter in 1977, illustrious guests sipped on homely pea soup and the German grain liquor korn at the unveiling of artist Eduardo Paolozzi's enormous mural.
Prominent German artists such as Edward Kienholz and Christo came to see Scottish pop art pioneer Paolozzi's "Metropolis." The black-and-white depiction of machine parts spanned a gargantuan 990 square metres overlooking the Kurfuerstenstrasse shopping street.
Later, it disappeared behind a bank building, and then from memory.
That is, until recent demolition works revealed part of its face to the city again - coincidentally at the same time as Paolozzi is the subject of an exhibition at the Berlinische Galerie museum.
With the help of a grant, the artist, who died in 2005, spent a productive few years in West Berlin in the '70s. According to the artist's catalogue, the mural was not preserved.
Berlin, along with other German cities, is currently undergoing a construction boom - with varied effects on the city's street art.
In some places, new pictures have appeared in recent years, such as the "Friedrichsfelder Triptych," which stretches for kilometres along high-rise buildings in the city's east.
But in others, murals are being lost.
Berlin's oldest facade painting, "Weltbaum" (world tree) by Ben Wagin from 1975, is soon to disappear. With its bare branches, the artwork is reflective of its time, when environmental degradation had started to become a talking point.
Today, a construction fence stands in front. "Work-life balance. Work in the green heart of Berlin," an ad plastered on the fence promises.
Berlin is not unique as a German city for its impressive street art offerings.
Western finance hub Frankfurt is known for an anti-racism mural depicting German football star Anthony Yeboah, while Munich has its own museum of urban and street art: MUCA.
Museum founder Stephanie Utz knows the consequences of gentrification for street art. But she says it is now common to use empty surfaces temporarily in ways that encourage contemplation before the the wrecking ball comes in.
"People are trying to solve the problem more intelligently," says Utz. Art can also be used to enhance an area, she explains.
Berlin is unique, however, in its high number of firewalls - whose lack of windows make them fantastic canvasses. In earlier days, artists with commissions from the city's senate or squatters would use them to express their discontents. Today, street artists from all over the world have taken up this mantle.
Pensioner Norbert Martins is a Berlin street art expert. Over 43 years, he has photographed some 800 paintings on facades - and these are counting only commissioned works by known artists.
A third are gone, estimates the 71-year-old, who has published books on the topic and gives tours.
However, Martins says, most street artists know that their works' days are numbered - most stay around for only 10 to 15 years.
Most artists aren't too fussed about the building boom, Martins adds.
"New images crop up all the time," says the aficionado. He knows how varied murals can be and believes they can add value to neighbourhoods filled with high-rises: "It really is true."
His favourite work is in the courtyard of a building in the city's multicultural neighbourhood Kreuzberg. It is an optical illusion by artist Gert Neuhaus that shows a realistic but contorted house.
Though Wagin's "Weltbaum" will soon be gone, the artwork will not fade into oblivion. The construction company says it has have offered the artist alternative space: His tree is supposed to adorn the floor of the new office building. A commemorative notice is also planned.
And as for the resurrected Paolozzi? The Berlinische Galerie knew about the demolition and had heard that parts of the painting could be seen from some rooms of the bank building.
"So we were curious about what would come about," says museum curator Stefanie Heckmann.
"We didn't have any information as to when exactly the demolition was planned. That so much of mural was still preserved and that it became visible exactly at the time of the exhibition was a surprise for all of us and a lucky coincidence," she says.
Of course, it would be nice if it were possible to preserve the picture, she added. "But construction sites in this area are so expensive. It's hard to even do the maths."