09.03.2018
New cabinet complete
Germany's Social Democrats have now also named their candidates for ministerial posts in the new government.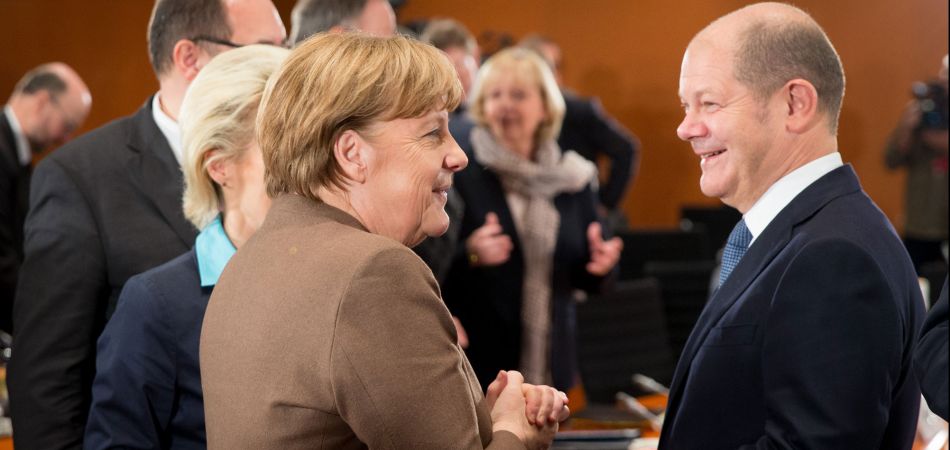 Berlin (dpa) - After the Christian Democratic Union (CDU) and Christian Social Union (CSU), Germany's Social Democratic Party (SPD) has named its candidates for six ministerial posts in the new cabinet.
They are: Olaf Scholz (finance), Heiko Maas (foreign), Hubertus Heil (labour/social welfare), Katarina Barley (justice), Franziska Giffey (family affairs) and Svenja Schulze (environment).
The names were announced by acting party chairman Scholz and the designated new party leader Andrea Nahles in Berlin on Friday. "We have resolved to appoint a good team," said Scholz, who is also to be vice-chancellor to Chancellor Angela Merkel in the new government.
The ministerial appointments for the CDU and CSU were made known several days earlier. From the CDU, head of the chancellory office and so a member of government will be Helge Braun. Ursula von der Leyen remains as Minister of Defence, while previous chancellor office chief Peter Altmaier now takes over as Minister of Economics and Energy. Jens Spahn is the new Minister of Health, Anja Karliczek is Minister of Education and Research and Julia Kloeckner is the new Minister of Food and Agriculture.
From the CSU - the Bavarian sister party of the CDU - the new Interior Minister is Horst Seehofer. Gerd Mueller remains on as Development Minister, while Andreas Scheuer takes over as Minister of Transportation and Digital Infrastructure.
On March 14, Merkel is slated to be elected by parliament to her fourth term as chancellor. Immediately afterwards the new cabinet members are to be named by President Frank-Walter Steinmeier and then be sworn into office in ceremonies in parliament. This would set in place Germany's new government almost six months since the national elections late last September.