Start of construction for important north-south power line
Economics Minister Habeck says that the start of construction of a section of the Suedlink connection is "good news for the energy transition" in Germany.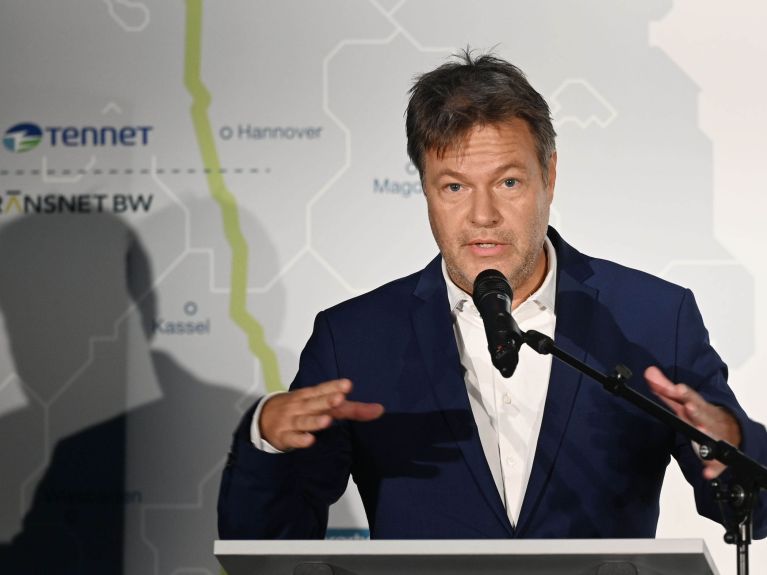 Wöhrden (d.de/dpa) – Important stage in the energy transition in Germany: in northern Germany, construction work has officially started on one of the main lines that will bring electricity from the wind regions of northern Germany to southern Germany. For the so-called Suedlink, a tunnel at least five kilometres in length is now being built under the River Elbe. The power line as a whole is to be 700 kilometres long, with completion scheduled for 2028. The so-called West Coast Line to Denmark is already nearing completion: the aim here is to significantly improve the transport of electricity from the wind regions of Germany's neighbouring country.
According to Federal Economics Minister Robert Habeck, Suedlink will enable southern Germany to benefit from large amounts of wind power from the north in the future. "This will strengthen the security of supply in Germany and also in our neighbouring countries," said Habeck. As construction starts on the Elbe crossing, the technically most challenging section of SuedLink now enters its next and final phase as planned. "This is good news for the energy transition and for Germany: it shows we're making progress with grid expansion."
Habeck said the West Coast Line to Denmark was "a particularly challenging project". He is all the more pleased "that the line is now due to be completed and can contribute to relieving the strain on the power grids in the region". According to grid operator Tennet, the West Coast Line is about to be fully commissioned. It runs from the Danish border over a length of just under 140 kilometres to Brunsbüttel in Germany.