Steinmeier recalls the ambivalence of 9 November
Good and bad, joy and suffering, happiness and doom – for Germans, 9 November embodies all of these.  
09.11.2021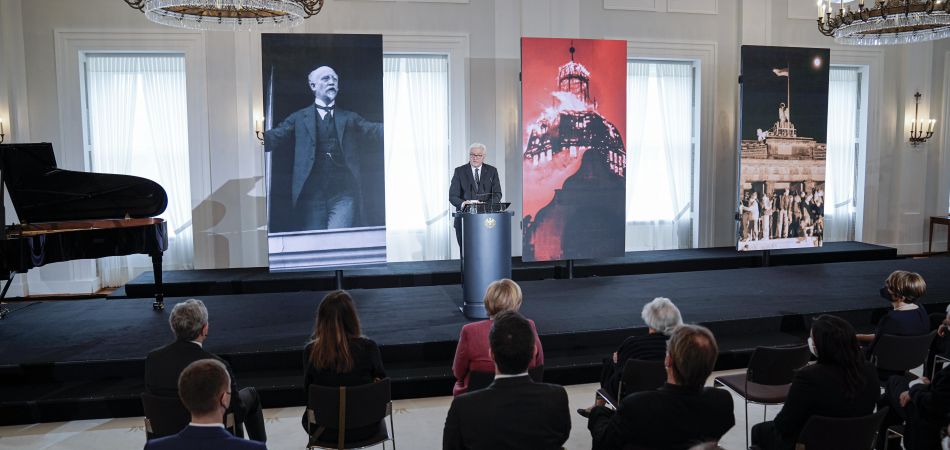 Berlin (dpa) - 9 November is a historic day for Germany – in both a good and a bad sense. With an event at Bellevue Palace this Tuesday, Federal President Frank-Walter Steinmeier is recalling the ambivalence of this day in German history.
The day stands for three important dates: on 9 November 1918, Philipp Scheidemann proclaimed the Republic from a window of the Reichstag building; the monarchy was a thing of the past. 9 November 1938 went down in history as the day of the National Socialist pogroms and stands for the persecution and extermination of the Jews. And on 9 November 1989, the fall of the Berlin Wall ushered in German reunification.
According to a statement from the Office of the Federal President, Steinmeier wants to instigate a regular institutionalised commemoration of 9 November that reflects all three events, as he believes this is something that has been lacking until now. Despite its great historical and emotional weight, and despite its contradictory nature – or precisely because of it – 9 November plays only a subordinate role in public remembrance today. For Steinmeier, the day is a "matter very close to his heart", reads the statement.
In 2018, the federal president had described 9 November as a "day of contradictions" in a speech in the Bundestag. He described it as "a day of light and of darkness, a day that demands of us what will forever be part of the view of the German past: the ambivalence of memory".
More about the political system in Germany