Steinmeier recalls World War crimes
Germany invaded the Soviet Union more than 80 years ago. President Steinmeier is now visiting Ukraine to ensure that Germany's crimes are not forgotten.
06.10.2021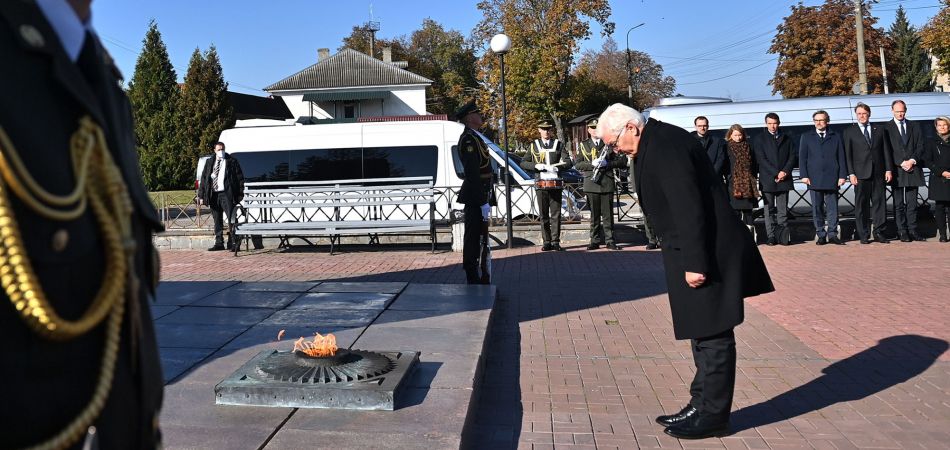 Kiev (dpa) - German President Frank-Walter Steinmeier is in Ukraine this Wednesday to commemorate German crimes in World War II. The occasion is the 80th anniversary of the massacre of Jews in Babi Yar. On 29 and 30 September 1941, German units of soldiers, policemen and SS men shot 33,771 Jewish residents of occupied Kyiv. By the time the Ukrainian capital was liberated by the Red Army in November 1943, around 100,000 people had been murdered in Babi Yar (Old Woman's Ravine). The ravine is believed to be the largest mass grave in Europe.
"It is difficult to come to Babi Yar as federal president," Steinmeier said. He explained that "bestial crimes and atrocities" had been committed as part of Germany's war of extermination in Eastern Europe and that he found it difficult to find words for them. "It is with unspeakable sadness and shame that I commemorate the more than 33,000 Jewish children, old people, women and men who were shot in Babi Yar in the space of two days 80 years ago, and the many tens of thousands more victims who were murdered in this ravine over the following two years," Steinmeier said, adding that Babi Yar was one of the worst massacres of the Second World War. For far too long, the inconceivable scale of the "Holocaust by bullets" had not been adequately recognised.