12.02.2018
Steinmeier visits Olympic athletes
Germany's athletes were thrilled by their president's visit to the Winter Olympics.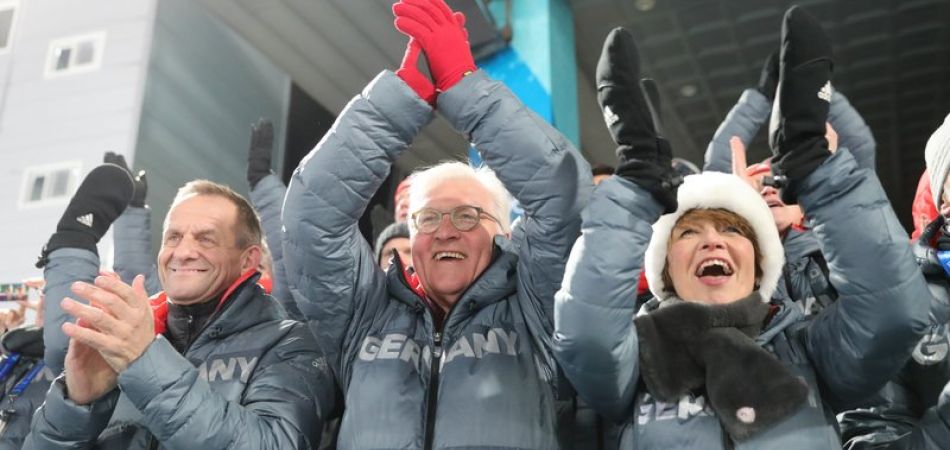 Pyeongchang (dpa) - German President Frank-Walter Steinmeier appears to have been a lucky charm for Germany's Winter Olmpics team. Within a span of just two hours at the Winter Games in Pyeongchang, he was able to celebrate two gold medals for the Germans - Laura Dahlmeier in the biatholon and Andreas Wellinger in ski jumping.
"I promise that we in Berlin will be keeping our fingers crossed for all the remaining competitions," said Steinmeier, for whom his Olympics visit at the weekend was likely a welcome change from the political wrangling over a new coalition government back home.
Steinmeier made a good impression on the German athletes. "I am so thrilled that we had the president with us at Team Germany, one who spent the day in every regard close to the sports and the people," said Alfons Hoermann, president of the German Olympics Federation. For the high-ranking visitor, this had not been "an obligatory appointment but rather a matter of the heart."
Steinmeier's programme in Pyeongchang included attending the opening ceremonies that saw the joint entry of the North- and South Korean athletes, which he termed "wonderful and highly emotional." It gave rise to optimism for a continuation of the dialogue between the two states long after the Winter Olymics have ended.
During his visit with German athletes, Steinmeier witnessed the training of the luge, ice skating and ice hockey athletes, ane he also met with the cross-country ski team in the Olympic village. He said he came away impressed by what he saw.
"I can only say that everyone is in a good mood, good condition and well-prepared," Steinmeier said. "Now we only have to see if the results in the end are what most are wishing for." He added that he was certain that TV viewers back home would experience "exciting and happy days" ahead.