Tikhanovskaya meets Merkel
Belarus opposition leader Svetlana Tikhanovskaya is fighting for democracy in her homeland. She is also hoping for help from the West - especially from German Chancellor Angela Merkel.
06.10.2020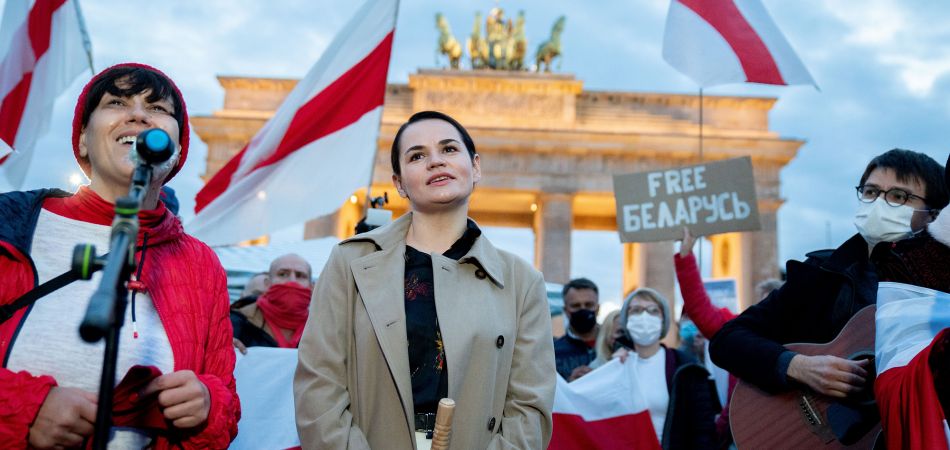 Berlin (dpa) - On Tuesday, Chancellor Angela Merkel will have a personal meeting with the Belarusian opposition leader Svetlana Tikhanovskaya. The civil rights activist hopes that Germany will play a mediating role in the power struggle with the controversial head of state Alexander Lukashenko. "We want Germany, as one of the most powerful countries in the world, to help in negotiations", said Tikhanovskaya in Berlin. "Anyone willing to act as a mediator can help us." Germany has already done a lot, the opposition leader said, explaining that she is grateful that the EU has imposed sanctions on people close to the ruler Lukashenko. "This is a victory, but it is a small victory. The list needs to be extended," Tikhanovskaya said.
Tikhanovskaya is one of the leaders of the democracy movement. In the presidential election on 9 August, the 38-year-old ran against Lukashenko, who, after 26 years in power, claimed victory with 80 percent of the vote. The opposition sees Tikhanovskaya as the true winner. The democracy movement is demanding that the head of state resign, that all political prisoners be released, and that new elections be held. There have been protests against Lukashenko in the capital Minsk and other cities for weeks. Like other EU states, Germany does not recognise Lukashenko as head of state. However, Lukashenko had secured financial support from neighbouring Russia and met with Kremlin leader Vladimir Putin. Tikhanovskaya stressed that she wanted to talk to Putin. "I want to understand why he supports Lukashenko."