Dialogue instead of confrontation
Two premieres and controversial issues: these are the participants, topics and programme of the Munich Security Conference 2018.
16.02.2018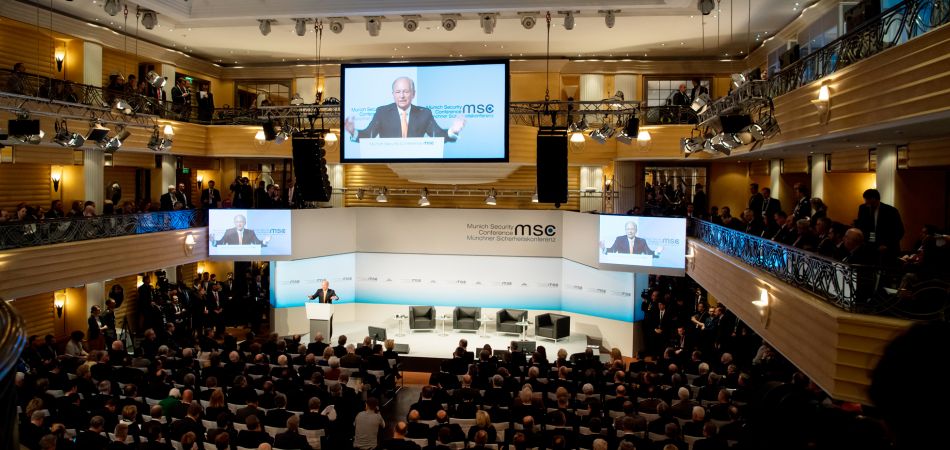 Germany. One thousand talks a day – that's 1000 chances to defuse global conflicts. Government leaders, foreign policy leaders and representatives of business and civil society from all over the world will meet for three days at the Munich Security Conference (MSC 2018), the most important international forum for security policy.
What are the main issues at the MSC 2018?
Key issues are the future of the European Union, its relations with Russia and the US, and the conflicts in the Middle East, in particular the war in Syria. Another focus is arms control.
What is the state of world security?
Answers are provided by the Munich Security Report 2018, which the MSC Chairman Wolfgang Ischinger presented as conference reading. It contains analyses of the most important foreign and security policy developments.
Munich Security Report 2018: "To the Brink – and Back?"
Last year, the world came too close to a major interstate conflict.
Wolfgang Ischinger, Chairman of the Munich Security Conference
Who is participating in the Munich Security Conference 2018?
The organizers expect about 600 participants, including more than 20 heads of state and government, 40 foreign ministers and 40 defence ministers. Non-governmental organizations are also represented – for example, Transparency International and the Bill and Melinda Gates Foundation.
Israel is sending Benjamin Netanyahu, the first time an incumbent prime minister will attend the MSC. Iraq's Prime Minister Haider al-Abadi, British Prime Minister Theresa May, Austrian Chancellor Sebastian Kurz, Ukrainian President Petro Poroshenko, UN Secretary-General António Guterres, European Commission President Jean-Claude Juncker, EU foreign policy chief Federica Mogherini and NATO Secretary General Jens Stoltenberg have all also agreed to attend.