"We are role models"
Satou Sabally has caused a stir – as a German player in the US basketball league WNBA and as an athlete with political awareness.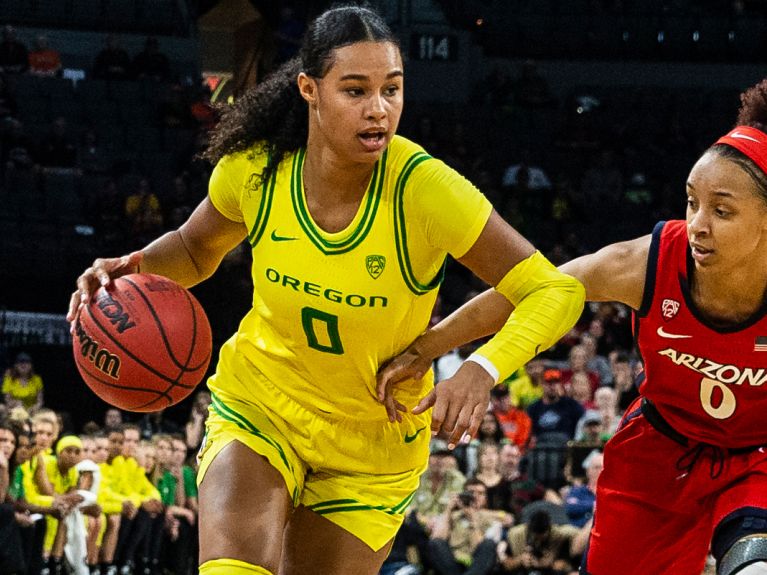 The twelve-year-old girl in the photo with other basketball players of her age group still looks rather shy. Her hair is knotted into a long braid and she looks into the camera in the spring of 2011 as if she were unsure whether she is in the right place in this talent course in Oberhausen, West Germany.
A scene nine years later, during an American summer, in a sports hall in Bradenton, Florida: Satou Sabally, now 1.89 meters tall and the towering switch-point in the game of the Dallas Wings, seems anything but reserved, moving confidently in the fray of her first game as a professional basketball player in the USA.
Sabally has achieved the most important intermediate goal of her career. She plays in the Women's National Basketball Association, or WNBA for short, the best professional league in the world. There she eggs on her team, which was last season still at the bottom of the league, in the fight for the championship amidst the Florida quarantine caused by the coronavirus pandemic. Each game is broadcast live on television. Sabally earns $ 68,000 in the mere four-month season, which allows her to play for Fenerbahçe Istanbul in Turkey over the winter.
Born in New York, grew up in Berlin
If you want to know how all this happened so quickly with the daughter of a Gambian father and a German mother who was born in New York, grew up in Berlin, and was trained to be a brilliant basketball player at Oregon University, observe how she handles the ball. Her college trainer Kelly Graves recognized this early on: "When you see how she plays, you're mesmerized." Basketball players like Sabally are rare: she is tall, athletic, and at the same time possesses considerable raw speed and special skill in handling the ball. In Oregon she refined her play repertoire and cultivated basket shots from beyond the three-point line.
In her German homeland, Sabally has been compared to Europe's best basketball export, Dirk Nowitzki of Würzburg. All the more so when the WNBA club Dallas Wings selected her as second in the draft of the best young talents in spring 2020. Nowitzki played for the Dallas Mavericks throughout his US career, but apart from Sabally's new job with the Wings there is no overlap. Especially since Sabally clearly defines herself as a political person. She already did this on social media as a student in Oregon when black athletes denounced police brutality against African Americans. "More athletes should speak out on socially critical issues", she said in an interview with Deutschlandfunk in April 2020. In July, Sabally was appointed a leading member of the WNBA's new Social Justice Council, which fights against racism. Another of Sabally's concerns is the equality of women's sport, which she believes male athletes should support more vocally. "We athletes are in a good position. We are role models", says the 22-year-old activist. By the way, her younger sister Nyara seems to be similarly talented and has started on the same path towards professional basketball in her move to the University of Oregon.
Her sporting experience in the USA has boosted Sabally's self-confidence considerably. Back when she was attending classes as a teenager and hopeful young talent in German basketball, she felt uneasy. "I wanted to straighten my hair. I didn't want to show my curls", she recently told the online lifestyle magazine RosaMag, which is primarily aimed at Afro-German women. "It's really crazy how you sometimes just want to look like the norm. But now I see it as special. I'm proud to be black. Now I enjoy standing out. Still, it's a process – you have to learn to love yourself when you always look different. That's just the way it is!"
She has long felt herself to be a cosmopolitan. She is homesick for Berlin when she is living somewhere else because she "spent most of her time there as a teenager". But no sooner has she returned to the city where her parents live and raised six children than she wants to take off for her father's homeland in West Africa. And shortly thereafter, the hankering for life in the USA makes itself known. There she has a prominent management agency supporting her, which has already set up an initial public relations campaign. Its slogan was soon found and emblazoned on the T-shirts she wore at photo shoots: "More than an athlete". And that she is – from head to toe.