Intelligent robots save lives
Robot lifesavers are being trained at the German Rescue Robotics Center. We examine how artificial intelligence helps.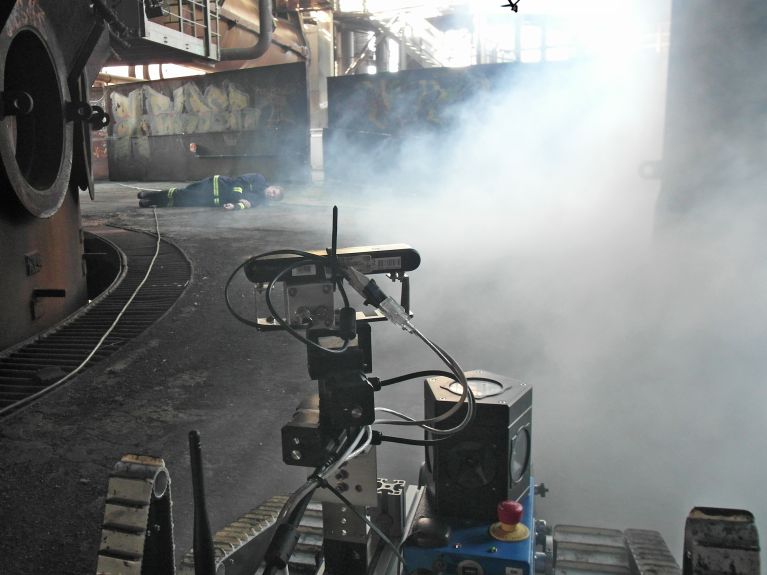 Rescue teams risk their lives saving people during fires, floods, earthquakes, chemical accidents and bomb disposal work. In future, intelligent robots are to be deployed when the situation is too dangerous for human rescuers. That's why the Federal Ministry of Education and Research is funding the German Rescue Robotics Center (A-DRZ) in Dortmund. It combines the expertise of twelve project partners and is commencing work in December 2018.
Where does artificial intelligence play a role?
Robots are already used as remote-controlled tools that help locate buried accident victims, defuse bombs and dismantle decommissioned nuclear power plants. The future goal is rescue robots that can act autonomously to a certain extent and perform more complex tasks. To achieve that, researchers will have to equip them with artificial intelligence.
Three specialist groups in a project at the German Research Center for Artificial Intelligence (DFKI) are working on communication and collaboration between humans and machines. Experts on language processing and industrial informatics are teaching robots to comprehend rescue mission procedures, understand commands and give information to rescuers. "Our goal is natural and efficient communication with robots so that they can effectively complement human emergency personnel as active team members," says Ivana Kruijff-Korbayová, who is coordinating the DFKI teams.
How are the rescue robots tested?
Researchers, fire fighters and engineers are testing the rescue robots at the Living Lab on a former industrial site in Dortmund. They have to prove themselves in different emergency scenarios – for example, by withstanding extreme heat, getting over rubble and up or down steps, locating the injured, transmitting photos and data, identifying dangerous substances and transporting tools.