Economics: Stronger together
The economy in east Germany is characterized by clusters that have formed in traditional industrial centres. These are its strengths.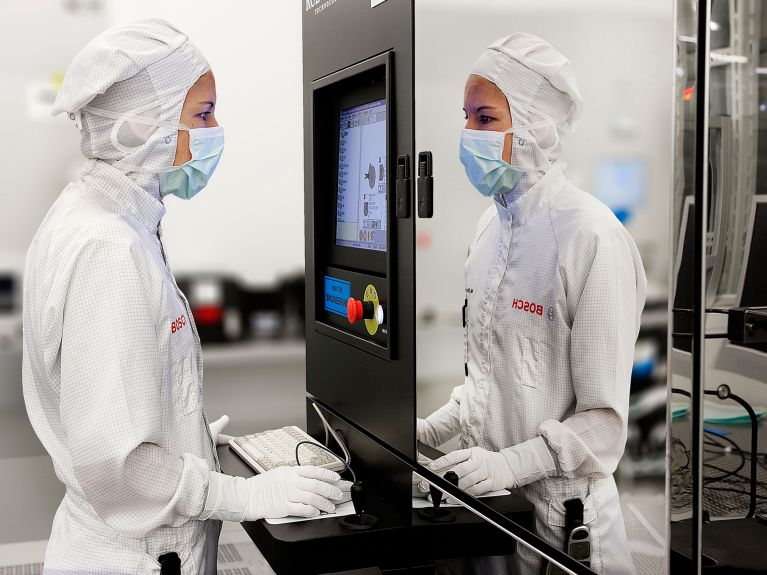 Automotive clusters
With more than 60,000 employees, the automotive cluster links the east-Germany-based automotive manufacturers, suppliers, service providers, research institutes, associations and institutions. The aim is to develop east Germany as a European centre for high-tech products in the automotive industry. Opel, VW, Daimler, Porsche and BMW all produce in east Germany. Daimler is currently building one of the world's most modern battery factories in Kamenz, Saxony.
Silicon Saxony
Silicon Saxony, the industry network for micro- and nanoelectronics, software, applications, smart systems and energy systems, is the most successful in Europe. It links over 330 manufacturers, suppliers, service providers, universities, research institutes and public institutions in Saxony. The German technology company Bosch is currently building a chip factory in Dresden for a billion euros.
BioEconomy
In the BioEconomy cluster, research scientists from more than 50 companies are working with research and education institutions to find out how a scarce resource like biomass can be used intelligently. The regional focus of the BioEconomy cluster is in Saxony-Anhalt and Saxony, with the Leuna chemicals site at its centre. The Halle science campus and its members bring together the world's leading expertise in the field of plant-based bioeconomy.
Optonet
In the Jena, Erfurt, Ilmenau and Gera region, 187 companies and numerous research institutions work together at Optonet, or the Photonics Network Thuringia. This makes Thuringia one of the leading locations for lighting technologies worldwide. About 15,800 highly qualified staff work for these companies and scientific institutions; the photonics specialist Jenoptik alone employs 3,680 people.
© www.deutschland.de