Let's go for Africa
How German start-ups and SMEs are successful in Africa with sustainable projects.
While German corporations are pressing ahead with lighthouse projects, start-ups and SMEs are now discovering the continent, too. A pioneer among them is Mobisol. The Berlin start-up had the idea back in 2010 of connecting solar power, which was becoming ever cheaper, with the widespread mobile phone networks in Africa. It designed solar photovoltaic island solutions for households that could be paid for by "micro transfers" via mobile phones. Today, over half a million people in East Africa get their electricity from such plant. In this way, each year 50,000 tons of CO2 get saved. The objective: to supply a further 20 million people with power this way by 2023.
Providing solar power in Senegal
The success has evidently caught on. In 2018, Gauff Engineering, an SME based in Nuremberg, signed a contract during Federal Chancellor Angela Merkel's trip to West Africa to plan and implement decentralized solar power supplies for 300 villages in Senegal. Each of the 300 villages will receive a solar PV plant including battery storage, LED street lights, low-voltage cabling to distribute the electricity, and connections from the system to the houses. The majority of the components and appliances will be supplied from Germany. In Senegal, local skilled staff will be trained to handle ongoing operations and maintenance of the systems.
Wave power plant on Cape Verde
Sinn Power, a start-up founded in 2015 in Bavaria, is prioritising ocean waves as the source of electricity. In 2018, founder Philipp Sinn signed the first contract for a commercial project on the Cape Verde islands. The idea is incredibly simple: The ebb and flow of the waves moves floating elements that in turn move lifting rods and thus generate electricity. At present, the wave modalities and power requirements are being audited. Once the wave power plant is installed, it will replace environmentally unsound diesel generators. The Cape Verde government intends to generate 100 percent of the country's electricity using renewable resources by the year 2025. If only ten percent of the energy requirement were sourced from wave power, this would already reduce CO2 emissions by 37,000 tons a year.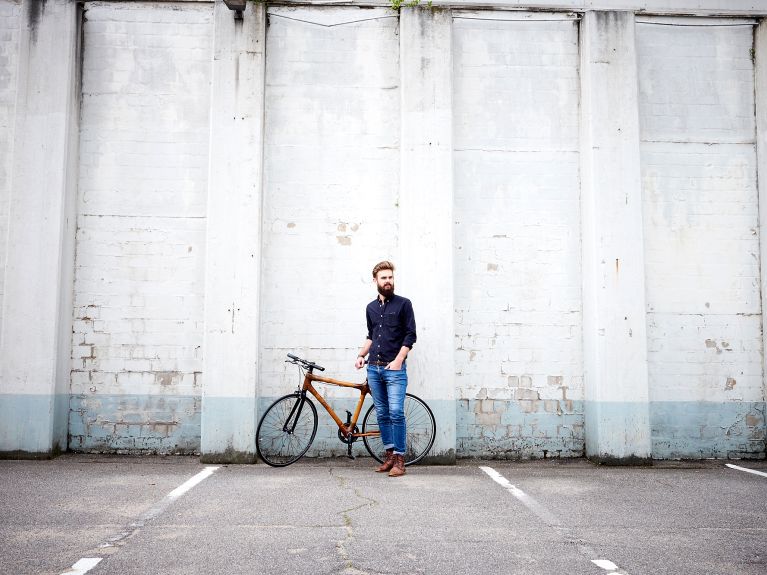 Bamboo bicycles in Ghana
Kiel-based start-up "my Boo" has been successfully cooperating on a project in Ghana for years now: producing bamboo bicycles. The unusual story began back in 2012, when Jonas Stolzke, one of the founders, saw a photo of a bamboo bicycle in Ghana. He and his friend Maximilian Schay contacted the manufacturer, flew to Ghana, built a prototype for the European market, and founded a company. Today, the product range includes more than a dozen models including the world's first bamboo e-bike; the hand-made iconic bicycles are sold online and in pop-up stores. The start-up has since morphed into a company in Kiel with a staff of 15 and more than 60 secure and fairly paid jobs in Ghana; it awards training scholarships and is busy building its own school in central Ghana.