Air taxi!
The German firm Volocopter plans to deploy an initial fleet of ten to 20 electric air taxis in Singapore by 2024.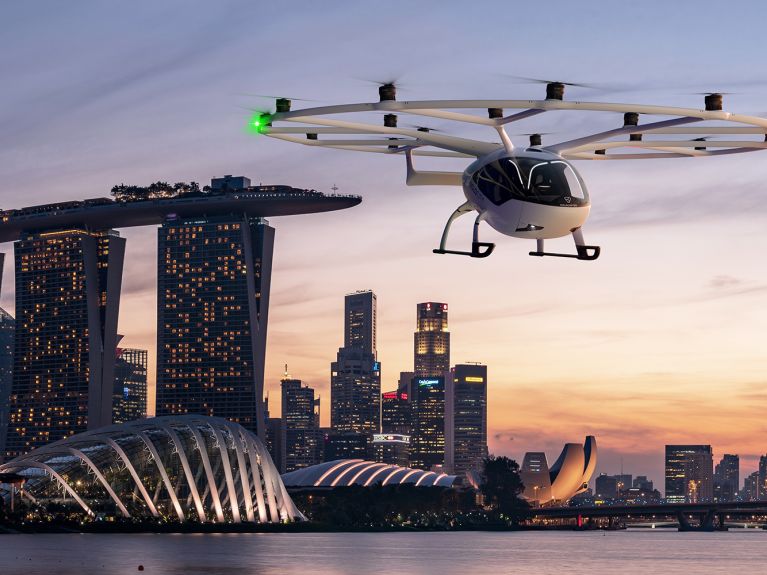 Christian Bauer, chief commercial officer of the German air taxi manufacturer Volocopter, announced at the Singapore Airshow in mid-February that the firm was planning to deploy a fleet of ten to 20 electric air taxis in Singapore by 2024. As well as serving popular tourist destinations like Marina Bay and Sentosa Island, the air taxis – which take off and land vertically – will also fly to the city state's neighbouring countries. In Marina Bay in 2019, Volocopter had operated its first ever and only manned air taxi flight to date in an inner city.
In the meantime, Volocopter has also run a public manned test flight in South Korea. In November 2021, the air taxi firm initially conducted a test at Gimpo International Airport. Watched by hundreds of spectators, a Volocopter then took off from Incheon Airport a week later, reaching an altitude of 50 metres and a speed of 45 km/h during a five-minute, three-kilometre flight.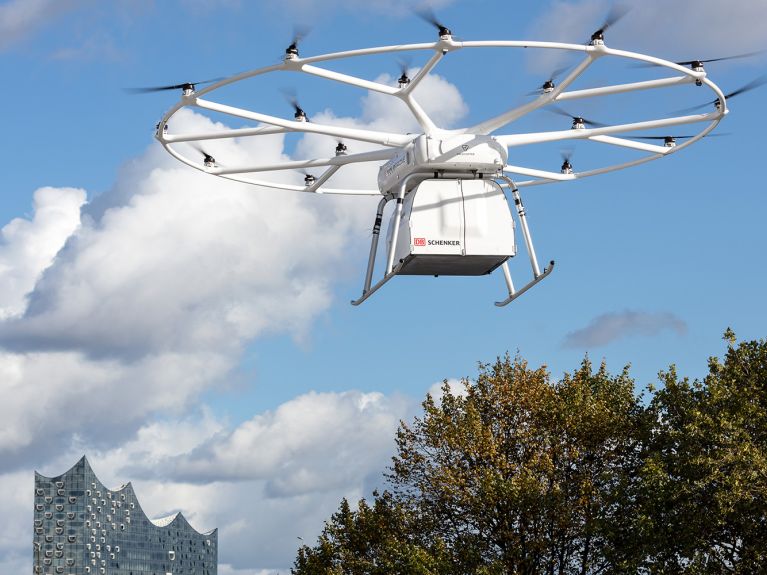 There are also air taxi plans for China, where Volocopter will launch operations in early 2023 – though initially only with drones that will deliver parcels in the city of Chengdu. In October 2021, Volocopter had conducted its first public cargo drone flight in Hamburg's harbour area. Fitted with 18 rotors, the unmanned "VoloDrone" is designed to transport pallets weighing up to 200 kilograms and has a range of 40 kilometres. The company sees the shipment of heavy parcels to remote locations and the transport of unwieldy parts on building sites as possible applications.
Volocopter CEO Florian Reuter described the test flight as proof of his company's leading position in urban air transport. "We are the only firm that is developing solutions for passengers and cargo and presenting them in public test flights around the world." In his words, Volocopter's family of aircraft ensures "fast, safe and emission-free" flights for passengers with the VoloCity and the VoloConnect and for cargo with the VoloDrone. Established in 2011, the company is based in Bruchsal in the German state of Baden-Württemberg and now employs over 500 people.
The German government sees these modern aircraft as offering huge potential for a variety of applications. It has initiated an action plan with the aim of establishing drones as an everyday means of transport within just a few years' time. According to a market study conducted by the German Unmanned Aviation Association, the number of commercially operated drones in Germany is set to increase threefold to 132,000 by 2025. (with dpa)