By air taxi into the future
"Neom – The Line" is a futuristic Saudi city that is to be built at the Red Sea. The German company Volocopter is producing air taxis for it.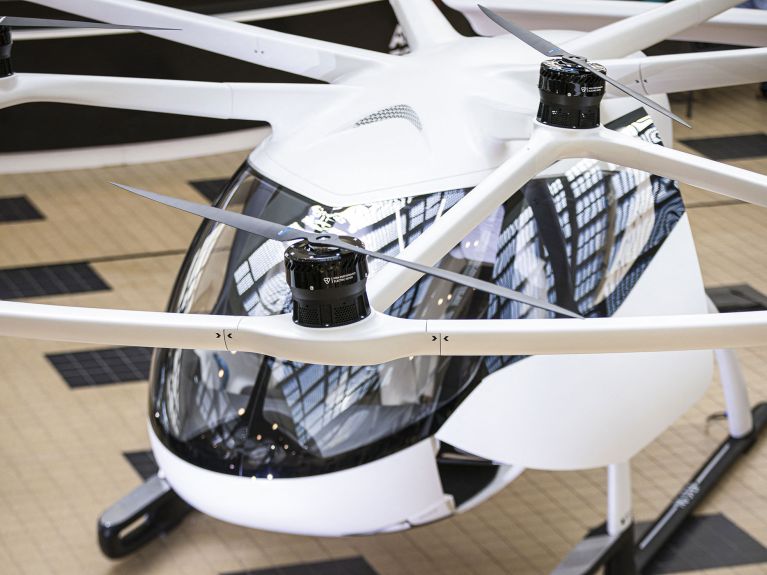 At first it sounds like a story from a hyper-modern future: a sustainable megacity that has virtually no car traffic, in which people use drones and a hyperloop to move around instead. Yet this future is actually not all that far-off: a model city of precisely this type is being built in Saudi Arabia – and a German company is among those responsible for its sustainable mobility.
A real-life lab for future mobility
For the planned city of "Neom – The Line", which is being built at the Red Sea, the firm Volocopter from the German state of Baden-Württemberg will be producing air taxis capable of transporting not only humans but also heavy loads.
Neom is to serve as a "real-life lab for future mobility". Vertical mobility will play an important role. The city's planners from Saudi Arabia had contacted the firm Volocopter quite some time ago because they were interested in its "safe and quiet products that are emission-free in flight", as Volocopter reports.
The company will supply a fleet of ten VoloCity air taxis to carry passengers and five VoloDrones for cargo transport. Equipped with 18 rotors, the latter are unmanned, fully electric aircraft that can transport goods weighing up to 200 kilograms over a distance of 40 kilometres.
The air taxis can transport two passengers plus their luggage. They are to be used not only in Neom but also at the 2024 Olympic Games in Paris. With a range of 35 kilometres, they can fly at speeds of up to 110 km/h –  Volocopter describes them as the "ideal on-demand air taxi" for inner cities.
The range of products offered by this aviation company is of interest to both Saudi Arabia and Europe, in other words. As its press spokesperson explains, Volocopter is the only company to have been granted development and product licences by the European Aviation Safety Agency (EASA).
Helping shape mobility from the bottom up
To achieve smart mobility in Neom, Volocopter and Saudi Arabia have established a joint venture that will have sole responsibility for operating the first routes in Neom. The urban air mobility (UAM) system is also to handle logistics, emergency call-outs and tourism. Construction on the mobility system is to begin in the spring of 2022. "The partnership and the joint venture with Neom will open up new possibilities for us", says Christian Bauer, head of business development at Volocopter. "Neom is a unique opportunity that will allow us to help shape an entirely new UAM ecosystem right from the start, without the limitations imposed by existing infrastructure and regulations."
The first Volocopter aircraft are expected to take off in Neom in the next two or three years. There are even likely to be dedicated landing pads for the air taxis. Though the aircraft can in principle land anywhere that is flat – be it on the roof of a multistorey carpark or on a strip of land – the so-called "vertiports" (a portmanteau of the words "vertical" and "port") make for snazzy landing places.
Use worldwide
Volocopter's plans are not only focused on Saudi Arabia, however. The company from Baden-Württemberg is also active in South Korea, where plans are in place to launch urban air mobility over the next three years.
The drone business is still at the test phase in Germany, though drones could soon be used to deliver parcels or inspect wind turbines. Such concepts were trialled in the port of Hamburg during the summer of 2021. Drone technology is also being funded by the Federal Transport Ministry with a view to driving forward these innovative mobility technologies.