A practical guide to Industry 4.0
How the idea of Industry 4.0 can be implemented in practice: three projects you should know about.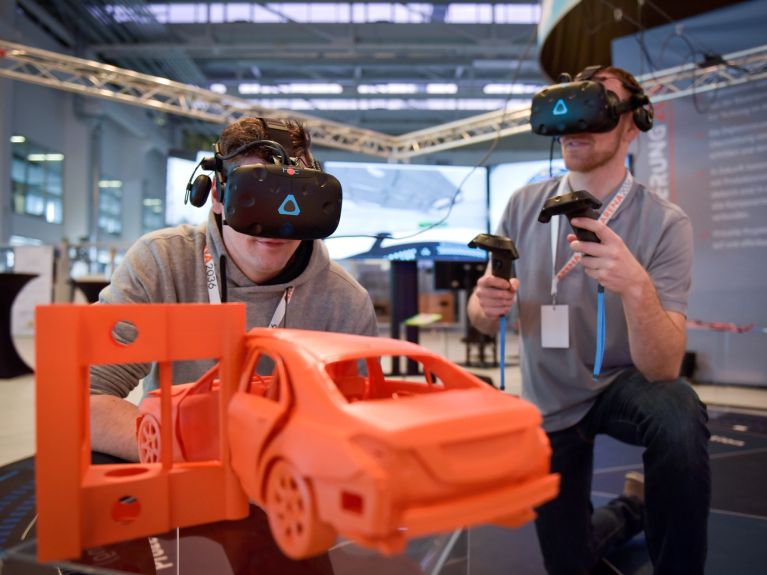 The Research Factory
Arena2036 (Active Research Environment for the next Generation of Automobiles) is the largest and leading research platform on mobility in Germany. In a high-tech research factory on the Stuttgart-Vaihingen university campus, experts from the fields of science and industry are working on ideas for a sustainable automotive industry. They believe the key lies in Industry 4.0 production. Their aim is to implement a flexible, versatile production system for intelligent lightweight vehicle design by 2036, the 150th anniversary of the invention of the car.
The Application Centre
At the Industry 4.0 Application Centre run by Fraunhofer IPA, small and medium-sized enterprises in particular can experience which Industry 4.0 applications they might use. Most of the Application Centre's development areas are based on the study 'Industry 4.0: Fields of Development for small and medium-sized enterprises," Here, the Stuttgart researchers have defined four stages of Industry 4.0. "In this way, companies experience the benefits of Industry 4.0 as a coherent story," says Petra Foith-Förster, Head of the Application Centre.
The Science Year
The motto of the Federal Ministry of Education and Research's Science Year 2018 is the "Working Life of the Future". In projects and at events, experts will be answering questions about what work will be like tomorrow (and thereafter). Digitization, particularly Industry 4.0, will be a major topic. Key questions include: How can robots help us? How do humans and machines interact in a smart factory? Where is artificial intelligence used?
More information is available on the website www.wissenschaftsjahr.de/2018