Welcome to the new normal
The coronavirus pandemic is changing how people in Germany work, study and live. Some of these changes also have positive aspects.
Christina Iglhaut, Sarah Kanning, Clara Krug / 12.03.2021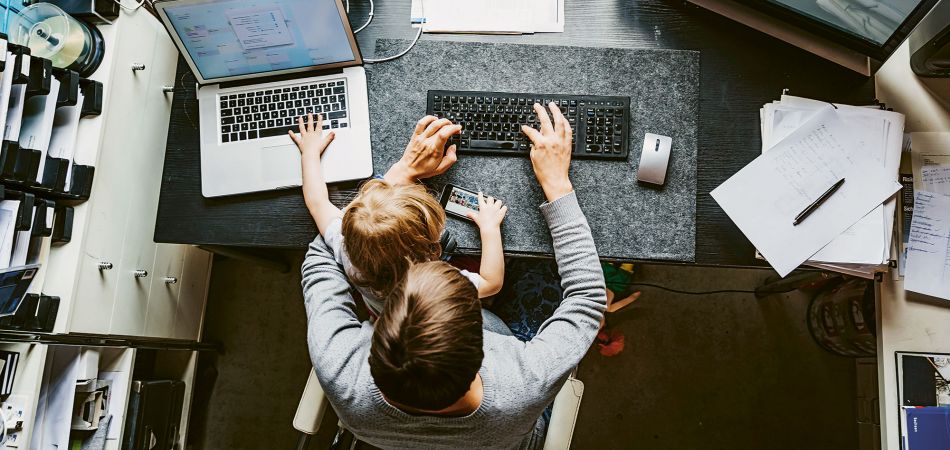 Working from home. Deserted offices, abandoned office kitchens and ghostly silence in conference rooms – since the beginning of 2021 this has been the picture in many German businesses. Millions of employees have been working at home since mid-March 2020. According to a survey carried out in December 2020 by Bitkom, the association of the ­German digital sector, a quarter of the workforce is working exclusively from home and a fifth stays at home for at least some days a week. For most people in Germany, however, remote working and working from home are by no means normal: before the pandemic only 3% of the working population worked exclusively from home and another 15% did so occasionally. Although, according to the survey, many employees miss their well-equipped offices and personal contact with ­colleagues, people who work from home consider their work more productive and are more satisfied with their results. No more journeys to and from work and greater freedom are what many appreciate about the new situation. Experts ­therefore reckon that the trend towards working at home will increase.
Changing direction. The transport sector is suffering in Germany too as a result of the crisis. According to the ­Federal Statistical Office, in the first six months of 2020 only half as many passengers undertook long-distance bus and train journeys as during the same period of the previous year. In 2020, Germany's largest airport in Frankfurt am Main registered a fall in the number of air travellers to the level last recorded in 1984. According to a survey by the dpa news agency, many employees now find it perfectly natural to participate in virtual meetings rather than business trips, and numerous companies also want to reduce the amount of business travel after the pandemic. Lots of people can also imagine travelling less often privately, as a PricewaterhouseCoopers study ­discovered: 44% of respondents wanted to travel on vacation less ­frequently. If there is a winner of the crisis, it is the bicycle: ­according to the Federal Transport Ministry, a quarter of the population cycled more in June and July 2020 than during the same period of the previous year. Many cities are responding to this trend by setting up "pop-up cycle paths" where – initially for a limited time – car lanes are transformed into cycle tracks.
Taking an exam on the kitchen table. Seminar rooms are empty, lectures are broadcast online and exams are taken at home: the pandemic has transformed how students live and is forcing universities to rethink higher education.For example, MyScore is a project at RWTH Aachen Univer­sity that enables an exchange of views in digital space. Equipped with virtual-reality headsets, participants meet for classes as ­avatars. Mobility and international exchange between individuals and institutions are also becoming digital – and this could become a model for the time after the crisis because it also ­enables students to gain international experience who would otherwise not have the funds to do so. International Virtual Academic Collaboration (IVAC) is a German Academic Exchange Service (DAAD) programme, for example, that supports digital partnerships between German and international higher education institutions. Despite these new ideas, the ­corona crisis is putting many students under financial strain: for example, because part-time jobs are no longer available. That is why Germany is supporting them with bridging ­allowances of up to 500 euros a month and study loans.
Rediscovering the forest. Almost 80% of Germany's population lives in towns. And although German cities can hardly be compared with the megacities of Asia or metropolises like Paris, London or Madrid with regard to residential space, light and parks, the situation there has become too cramped for many people because of the corona restrictions. A national curfew may not have been imposed in Germany to halt the pandemic, but playgrounds and parks were closed temporarily and now cinemas, bars, restaurants and many shops have had to shut their doors. Increasing numbers of people have been drawn to the countryside in pursuit of recreation. Those who had the option to do so moved in temporarily with relatives in rural areas, and allotment gardens, hiking paths and forests have also attained a new level of popularity. Forestry and agriculture account for a good four fifths of land use in Germany – and yet at times local leaders in tourist regions raised the alarm because they were literally overrun by visitors. At the same time, the very opposite phenomenon presented itself in towns and cities: wild animals like foxes and deer ventured out of the countryside into the urban fringes.
Breaking online sales records. At the very beginning of the pandemic there was great uncertainty about how high the risk of infection actually was in a supermarket. As a result, people who had previously rarely ordered anything online also began shopping on the web – even for food. This led to ­customers sometimes having to wait two weeks for an available delivery slot during the early phase of the pandemic. The ­online retail trade experienced a real boom in 2020. After all, clothing stores, booksellers and sports shops have had to close for long periods because of the pandemic. In contrast, shares in the German online fashion retailer Zalando reached a record high because the company attracted more new  customers than ever before. The victims of this development have been the shops in the stationary retail sector: department stores, boutiques and specialist retailers. Bicycle shops, on the other hand, remained open and in May 2020 recorded the "best month the sector has ever had", according to the Germany Bicycle In­dustry Association (ZIV). Cycle dealers now face a different ­challenge: some models have sold out – and will only be ­available again in summer 2021.
Raising awareness about fake news. Democracy needs facts – and this has become especially clear during the corona crisis. Misinformation on social media, in online ­forums or on dubious news websites has spread extremely fast during the pandemic. That's why journalists in Germany work continuously to counteract misinformation – for example, in Correctiv, a non-profit research centre. Its fact-checkers follow up tips provided by users and search through the Internet for potential fake news. They check the truth of the claims they find against valid sources and make their research results freely available. Working with the dpa news agency, Correctiv also supports Facebook with fact-checking. There has actually been great demand for reliable information during the pandemic: many Germans are now frequently falling back on traditional, credible media, says COVID-19 Snapshot Monitoring (COSMO) at the University of Erfurt. Above all, public service broad­casters and also the websites of daily newspapers have been ­registering record-breaking audience and access figures since the pandemic broke out.
Learning to love life in the country. For a long time, many people in Germany considered "moving to the country" unfashionable. But the corona pandemic has now changed that view. The restrictions imposed last spring and this winter made it very clear, especially to families, that a three-room apartment without a balcony does not offer enough private space, for example, for two parents engaged in remote working and school-age children who now have to study at home. Lower property prices, the chance of having a garden and the prospect of being able to carry on working from home, at least partially, have ­increased interest in a move to the countryside. According to a survey by Bitkom, the association of the digital sector in ­Germany, one in five people could imagine moving house if the period of remote working continues. In June 2020, ­Immobilienscout24, the online real-estate agent, registered twice as many enquiries for owner-occupied apartments in ­areas just outside cities. This is good news for many villages that have previously suffered from depopulation – rural areas could become more attractive again as a result of the ­pandemic.
You would like to receive regular information about Germany? Subscribe here: