Environment: Is this the solution for plastic waste?
Researchers in eastern Germany want to transform environmentally harmful plastic into a valuable raw material.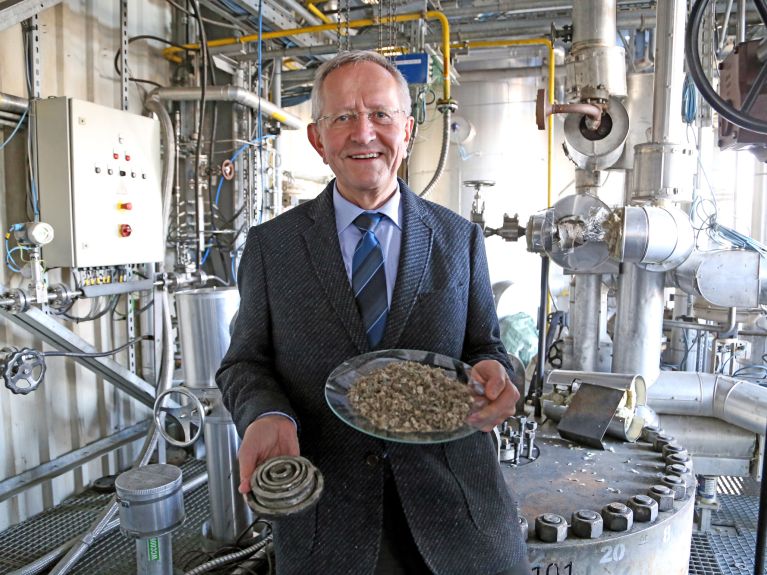 It's a win-win idea: environmentally harmful plastic waste is put to good use and climate-damaging lignite is not burned, but converted into gas. The resulting synthetic gas can be used as a raw material in the chemical industry and reduce its dependence on petroleum and natural gas.
Transforming plastic waste into a valuable raw material
At the core of the conversion process is a reactor in which carbon-containing materials are treated with oxygen and water vapour while subjected to temperatures of 1,000 degrees Celsius and above. Then, after adding hydrogen and further processing and purification, a synthetic gas is produced that is an important raw material for the chemical industry.
Scientists want to evaluate the technical feasibility and cost of this technology with a research reactor in Freiberg (Saxony). If the facility successfully produces high-quality synthetic gas with minimal CO2 emissions, it is then planned to realise a reactor in Leuna (Saxony-Anhalt), an important centre of the chemical industry.
Chemical recycling of plastic waste
Project Manager Bernd Meyer describes the process as "chemical recycling". The Director of the Institute for Energy Process Engineering and Chemistry Engineering IEC at TU Bergakademie Freiberg and Head of Business Unit Chemical Transformation Processes at Fraunhofer IMWS explains: "Carbon will not be burned, which burdens the environment with CO2; instead, it will be used for other compounds. As a result, we will be laying the groundwork for a largely CO2-neutral carbon recycling economy."
Using lignite in a climate-friendly way
Armin Willingmann, Economics Minister of the State of Saxony-Anhalt, sees additional advantages: "The pilot plant could open up a raw material base for the energy-intensive chemical industry that is largely independent of petroleum and natural gas. At the same time, we can use the region's available lignite reserves in a way that adds value and is climate-friendly." As a result, the plant could contribute to successful structural change in the region.
"Great demand worldwide"
If it is successful, the platform will be upscaled to industrial size. "We see great demand for this technology in other regions, even worldwide," says Ralf B. Wehrspohn, Director of the Fraunhofer Institute for Microstructure of Materials and Systems (IMWS) in Halle. Following the successful completion of the planning phase, the project should be realised by 2024.