Attractive for students
Yu-Xuan Lu is researching in Cologne and is impressed by the conditions. But the Chinese student still sees room for improvement.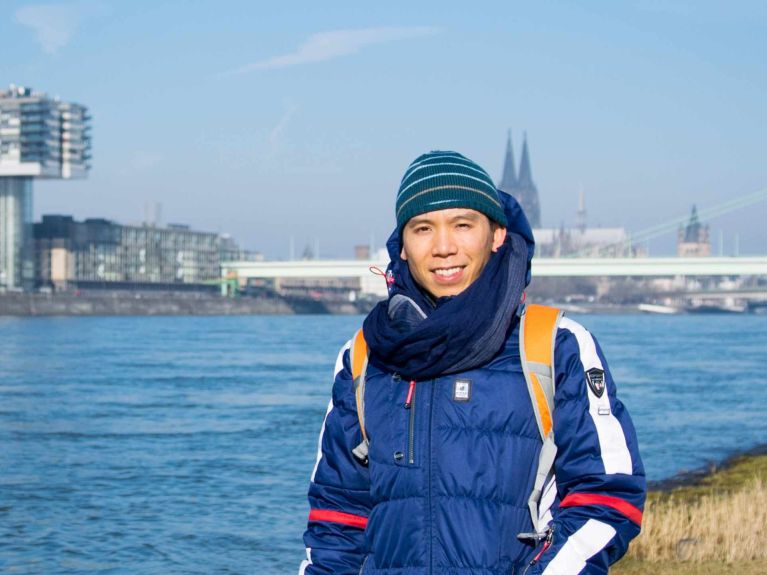 Yu-Xuan Lu is researching in Cologne at the Max Planck Institute for the Biology of Aging, and he is very impressed by the work conditions, not just in the laboratory. He and his wife came to Germany from Guangzhou in 2014, and the institute provided all-round support from the very beginning: with visas, finding somewhere to live, and settling in. Meanwhile, the couple have two children and Yu-Xuan feels well-integrated in the lively, cosmopolitan city, likes the annual Cologne carnival and the local specialities, such as Himmel un Ääd (fried black pudding with onions, apple puree and mashed potatoes). He likes to travel in his spare time, especially to the Baltic island of Rügen. He also enjoys photography and gives intercultural training courses. His lab work focuses on how people can live healthier and liger lives. We asked Yu-Xuan the following five questions:
What are the advantages of Germany in international university comparisons?
The general absence of tuition fees.
Chinese students currently represent the largest community amongst international students in Germany. Why?
Even after graduation, Germany offers numerous possibilities with major research organizations and internationally renowned companies. That's very good for career building.
Could anything be improved in Germany?
Germany is very attractive for international students, but it could be doing more to try and retain talented people. In the meantime, I've already received further offers from China and the USA, but none from Germany.
What is typically German in your opinion?
German people are very direct and like transparency. At first this approach seemed very brutal, and I had to learn how to deal with it.
What advice would you give to international students who are coming to Germany?
Apart from learning the language, try to get to know the country and its cultural characteristics.
You would like to receive regular information about Germany? Subscribe here: