Lasers in space
From Turkey to Germany and then to the USA and back: Manager and engineer Bulent Altan is pinning his hopes on spectacular technology.
Johannes Göbel / 09.08.2021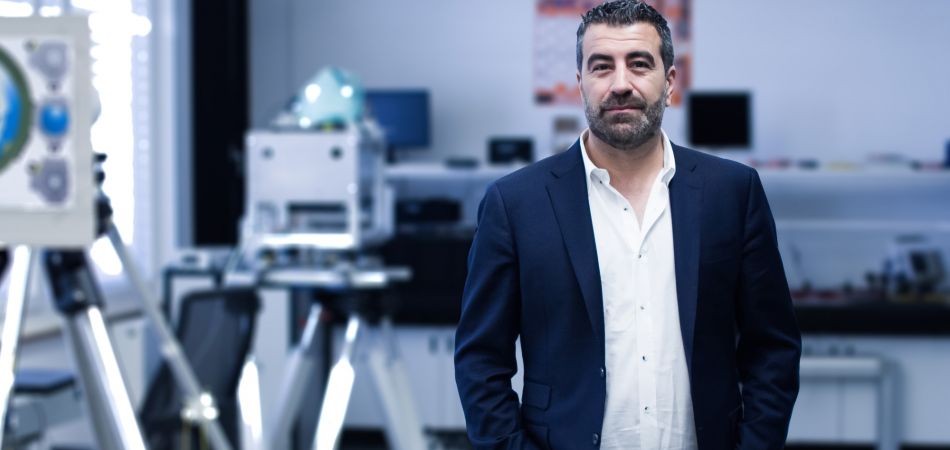 Bulent Altan was already very close to space while he was at SpaceX: he had worked for the aerospace company for more than eleven years, helping among other things to develop the Falcon 1 and 9 rockets. However, Altan decided in 2019 to switch to the less well-known company Mynaric, a spin-off of the German Aerospace Center (DLR) near Munich. We take a look at Mynaric and a very special manager.
Who is Bulent Altan?
He has had a yearning for far-off places all his life: Bulent Altan was born in Istanbul and attended an Austrian school there. He went abroad to study and did a degree in computer science at the Technical University of Munich from 1996 to 2001. He followed up with a master's degree in aerospace technology at Stanford University in the USA. In California, Elon Musk heard about Altan and recruited him to SpaceX, where the young engineer began an impressive career: he became one of the developers of the Falcon 1 and 9 rockets, and climbed the ranks to the position of "Vice President of Avionics". After some shorter stints elsewhere, for example at Airbus, he returned to a management position at SpaceX before setting up a venture capital firm for commercial aerospace companies.
Why did Altan return to Germany?
"The more I learnt about Mynaric, the more I became fascinated by the central role it plays in laser communication", Bulent Altan recently told Frankfurter Allgemeine Zeitung, explaining his decision to switch to the company based in Gilching near Munich, where he became CEO in 2019. Altan wanted not only to invest, but once again to help shape the future of space technology. Mynaric has long been driving forward laser communication technology for aerial and space networks. There are great hopes that this will allow global internet connectivity to be expanded.
What will the future bring?
In June 2021, Mynaric began series production of its so-called terminals. The devices, which measure roughly 60 by 30 centimetres, are designed to allow satellites to communicate via laser both with one another as well as with ground-based receivers. This "optical fibre for the skies" could benefit those regions of the globe that still lack an internet connection. "We are on the cusp of the industrial age of this technology", stresses Bulent Altan. Mynaric's goal is to "lead the way to enable the large-scale deployment across various applications in aerospace". It looks like Bulent Altan's exciting journey is set to continue.