Studying aerospace technology
How do you build and steer rockets, aircraft, engines, satellites? Discover how by studying aerospace technology.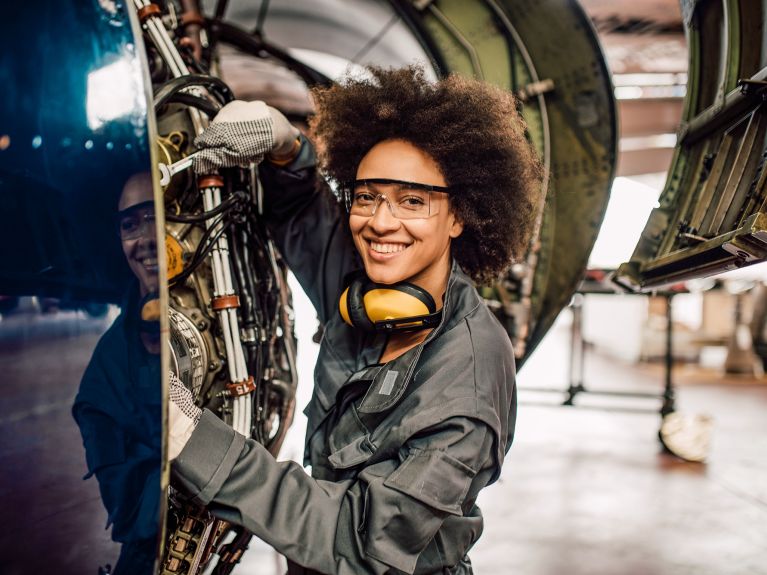 Aerospace technology is definitely a diverse and interesting subject to study. You will learn everything about the construction, development, operation and maintenance of complex flying objects. The foundations of the subject are very similar to mechanical engineering. That's why an understanding of technology and an interest in natural sciences are basic essentials. You should also enjoy mathematics, physics, computer science and chemistry.
In Germany, study programmes in aerospace technology are mainly offered by colleges of advanced technology and technical universities. The subject also includes study areas such as aircraft systems engineering, space engineering or aviation management.
Aerospace Engineering in Stuttgart
The University of Stuttgart is the only university in Germany offering a Bachelor of Science in Aerospace Engineering. Students focus on both fields in an interdisciplinary programme. This includes materials science and solid foundations in thermo- and aerodynamics. A six-week pre-study internship is required before starting the study programme.
Aviation Systems Technology and Management in Bremen
Students can specialize early at Bremen City University of Applied Sciences. In addition to the study programme in Aerospace Technology, the university also offers a Bachelor of Science programme in Aviation Systems Technology and Management for Maintenance Engineers with various areas of emphasis, for instance for airline pilots, air traffic control engineers or maintenance engineers. This study programme includes a two-semester practical phase.
Flight Operations Engineering with Airline Pilot Training in Aachen
If you prefer a more hands-on approach to manned aviation and are looking for an alternative to classic aerospace studies, FH Aachen is the place for you. The dual course in Flight Operations Engineering with Airline Pilot Training combines an academic education with practical training. Graduates finish with two qualifications: a Bachelor of Engineering and an Airline Transport Pilot Licence, so they can work both as engineers and as pilots.
You would like to receive regular information about Germany? Subscribe here: