Excellent universities
The most important facts about Germany's Universities of Excellence – and why other universities are also outstanding.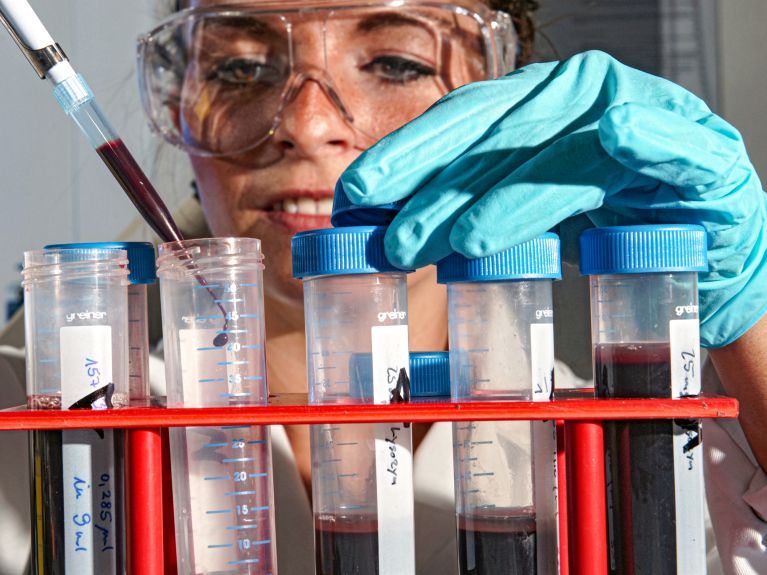 They are the winners of an exhaustive competition: ten universities and one university consortium in Germany were honoured by the Federal Government and the German states in 2019 as part of the Excellence Strategy adopted in 2016. In addition to this, there are 57 Clusters of Excellence conducting outstanding research at 34 university locations.
Where are Germany's Universities of Excellence?
Universities of Excellence are to be found not only in Germany's big cities but also in smaller university towns. The Berlin University Alliance combines the efforts of Freie Universität, Humboldt-Universität, Technische Universität and Charité – Universitätsmedizin to form a Consortium of Excellence. It is joined by the following Universities of Excellence: RWTH Aachen University, the University of Bonn, Technische Universität Dresden, Universität Hamburg, Heidelberg University, the Karlsruhe Institute of Technology (KIT), the University of Konstanz, Ludwig-Maximilians-Universität München (LMU Munich), the Technical University of Munich (TUM) and the University of Tübingen. All these institutions have Clusters of Excellence, which are also found at numerous other universities. Thus, for example, Kiel is a centre for cutting-edge research on precision medicine, Jena for advanced research on microbial communities and Stuttgart for simulation science.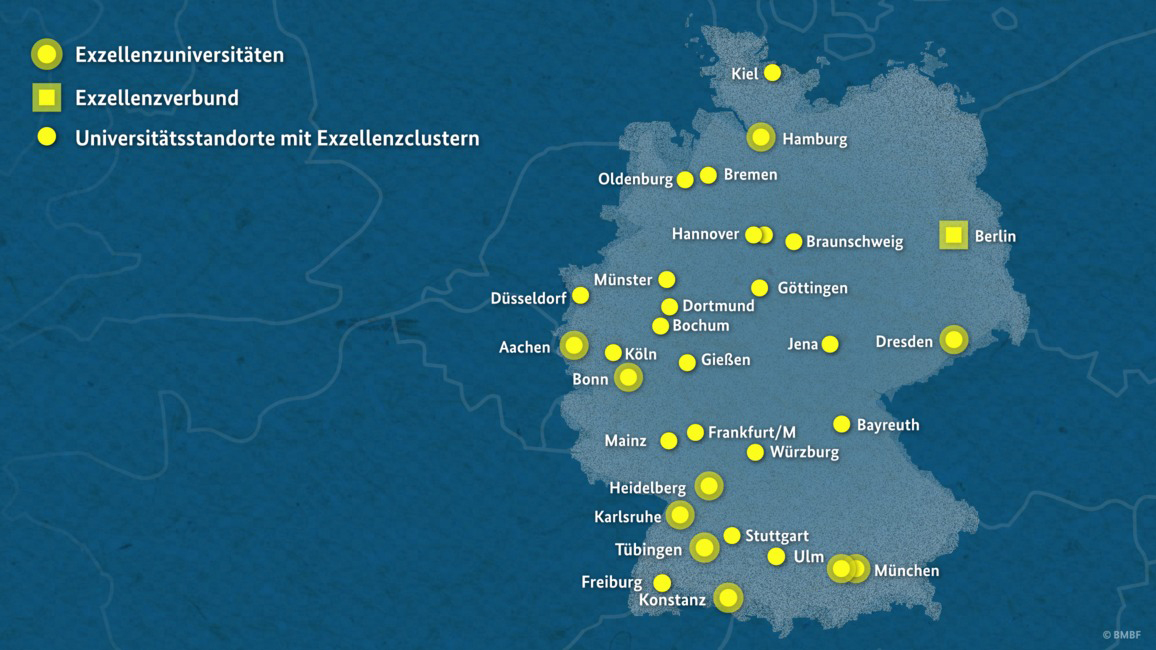 How were the Universities of Excellence selected?
A university could only be shortlisted for the award if it was able to present at least two Clusters of Excellence. The selection process was based strictly on academic criteria and was carried out by the Deutsche Forschungsgemeinschaft (DFG) and Germany's most important research policy advisory body, the German Council of Science and Humanities.
Why is Germany investing in Universities of Excellence?
The main objective is to strengthen cutting-edge research in Germany. In addition, the Excellence Strategy aims to improve universities' international competitiveness. Evaluation of the Excellence Initiative of 2007 to 2017 has already proved that the entire German university landscape is benefiting from the radiant power of outstanding higher education beacons. The Excellence Strategy is therefore also strengthening Germany's position as a centre of higher education and research by broadening its support.
What kind of support will Universities of Excellence receive?
From November 2019 until 2026 each of the Universities of Excellence will receive annual funding of 10 to 15 million euros. This funding is envisaged for research-related activities. At the same time it is intended to strengthen the institutional structures of the universities and, for example, facilitate new approaches to internationalisation.
How good are other German universities?
The example of Clusters of Excellence, which are distributed all over Germany, shows that cutting-edge research is also being done outside the Universities of Excellence. Furthermore, research is not everything: five German universities that were not awarded University of Excellence status – for example, Hamburg University of Technology (TUHH) and the Frankfurt School of Finance & Management – achieved top scores in the European Commission's U-Multirank higher education ranking, which in June 2019 evaluated the performance of over 1,700 universities from 96 countries in the areas of teaching & learning, research, knowledge transfer, international orientation and regional engagement.