A future in Germany
Germany is realigning its development policy partnerships around migration, starting with Ghana.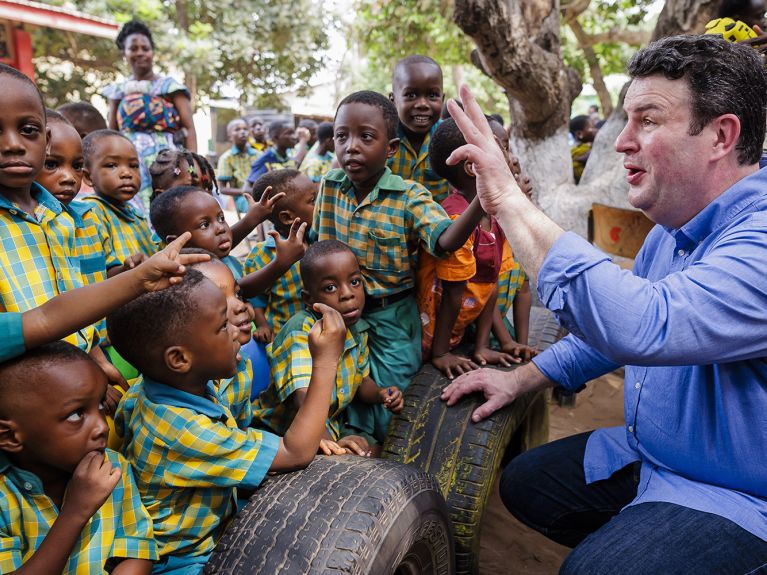 Hubertus Heil is delighted. Heil is Germany's Federal Minister of Labour. He and Svenja Schulze, the Federal Minister for Economic Cooperation and Development, were visiting a primary school in Accra, the capital of Ghana. On the school's sandy playground, children welcomed the two ministers with singing and dancing. "It really makes your heart swell," says Heil. With the help of donations from Germany, Karola Slany from Berlin set up this primary school 27 years ago. Many of her protégés have since gone on to secondary education and even university, but no-one has yet made it as far as Germany, says Slany, who is now the school's headteacher. Indeed, the opposite is true, she says: "Germany is a long way off for our children."
New direction in German migration policy
Nevertheless, many people in Ghana do see their futures in Europe and some want to come to Germany. This is why Heil and Schulze are using their visit to Africa to campaign for both development within the region and emigration to be facilitated. After all, there is an urgent need for skilled professionals in Germany. In the humid February heat of the West African country, the ministers for labour and development have announced nothing less than a "paradigm shift in German migration policy".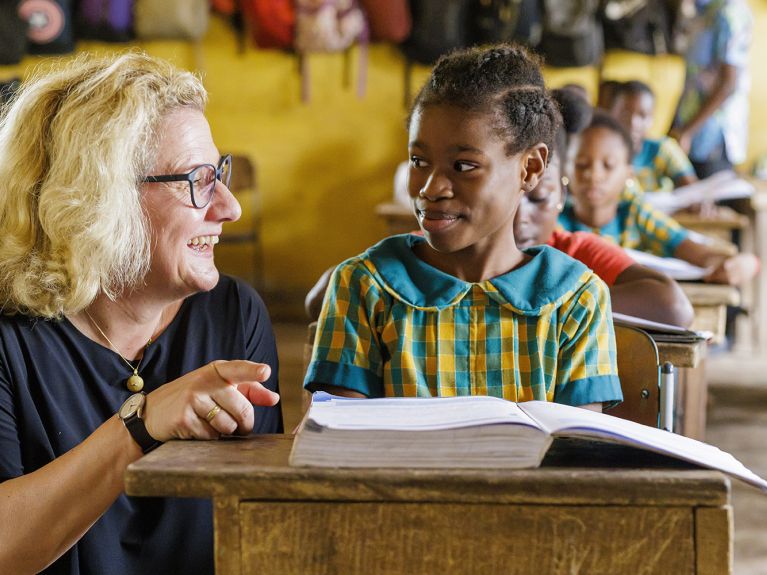 The Federal Government wants to reduce the shortage of skilled workers but without causing suffering to their countries of origin. The intention is for Germany to attract skilled professionals from around the world, and the Skilled Immigration Act has been in force since March 2020. The Act expands opportunities for professionals from outside the EU to come to Germany. The Federal Government is planning to update the law in 2023 to make it quicker and easier to attract people from non-EU countries into the German labour market. The Federal Government agreed the key points in late November 2022 and the proposed amendments to the Skilled Immigration Act will be presented to the Bundestag in the near future.
Ghanaian-German Migration Advice Centre
The intention is to ensure as far as possible that the movement of skilled workers to Germany does not worsen the situation in their countries of origin, and even to improve it. To this end, Heil and Schulze used their visit to Accra to send a positive message about migration. "This is about the economies of both countries being able to benefit," Heil says. "That's why it's good to work together and create a win-win situation," Schulze adds.
While in Accra, Schulze and Heil are setting a new strategic direction for the Ghanaian-German Migration Advice Centre. The centre is located right next door to Ghana's Ministry of Employment and will help those interested in moving to Germany and the EU find ways of getting there. Ghanaians who want to emigrate will also be able to find out how to start by first trying a move to a different country in Africa.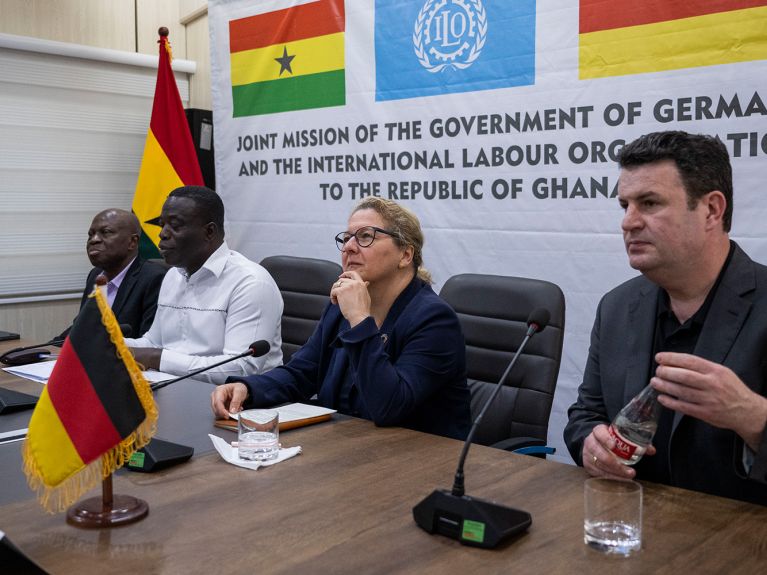 Help with start-ups in Ghana
The Centre will also continue its work supporting Ghanaians returning from Germany, helping them to regain a foothold in their homeland. Germany has promised support which includes help with setting up a business. "If this gives the impression that we want to take bright and skilled professionals away from this country, then that's not the case," says Heil. He notes that despite Ghana having a population of just under 34 million, but there is a surplus of well educated people who cannot find a job. Ghana's population is predicted to grow by a further 7 million over the next 10 years. "That's why it's important that we ensure in more ways than one that migration is fair."
Illegal movements of refugees
Compared to some other countries in West Africa, Ghana is politically stable. Many young people who attended Karola Slany's school as children now work in Ghana as teachers, nurses or priests. However, Ghana still suffers from inflation running at over 50% and the economy is struggling. Recently, many have decided to leave the country. On the issue of illegal movements of refugees, Heil explains that "What we're trying to do is prevent people from taking lethal journeys across the Sahara." Under the Skilled Immigration Act, people wanting to emigrate to Germany will be chosen according to their professional experience or links to Germany.
Strong German-Ghanaian relations
Over the course of the next three years, the Development Ministry will invest around 10 million euros in Ghana alone to help people gain qualifications and access vocational education. Ghana's Minister for Social Protection, Lariba Abudu, has praised the "strong bilateral relationship" with Germany. The Advice Centre in Accra is part of the wider Centre for International Migration and Development, a lighthouse initiative run in partnership by the Deutsche Gesellschaft für Internationale Zusammenarbeit (GIZ) and the German Federal Employment Agency's office for International and Specialized Services (ZAV). The Federal Ministry for Economic Cooperation and Development is providing 150 million euros for migration projects like this in countries across Africa, Asia, Latin America, and Central and Eastern Europe. More centres like that in Accra are planned for Morocco, Tunisia, Egypt, Jordan, Nigeria, Iraq, Pakistan and Indonesia. (with the dpa)