A sign of hope
Damaged but not destroyed: How "The Sphere" by Germany's Fritz Koenig survived the 11 September attacks.
Johannes Göbel / 10.09.2021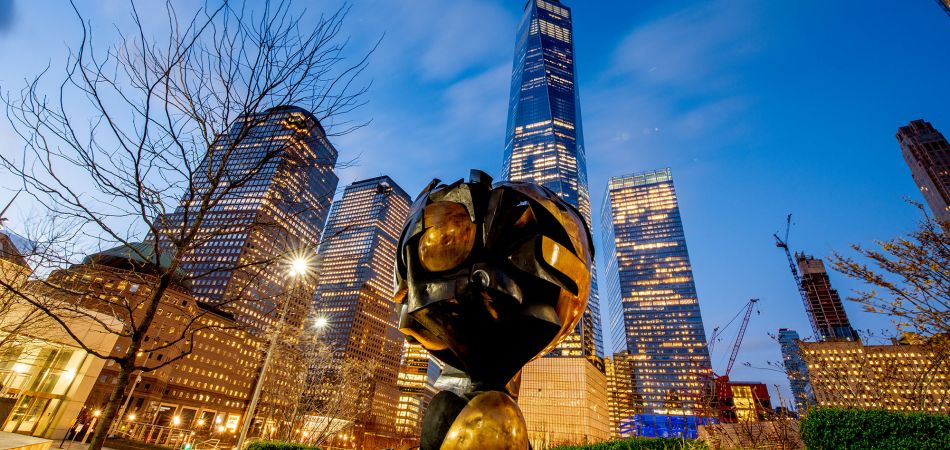 The artwork "Große Kugelkaryatide NY" by the German sculptor Fritz Koenig will be showcased at not just one but two exhibitions in the coming days: "The Way We Remember" at Columbia University's Wallach Art Gallery (10.9.–14.11.2021) and "9/11 und die Koenig Kugel" at KOENIGmuseum Landshut (11.9.–11.2.2022). Kugelkaryatide (spherical caryatid) and Koenig Kugel (Koenig sphere) are names that won't mean a lot to most New Yorkers. On the other hand, many will be familiar with "The Sphere", which has long been one of the city's landmarks on the Hudson River.
How did "The Sphere" come about?
When drawing up his plans for the World Trade Centre in the 1960s, the architect Minoru Yamasaki picked Fritz Koenig's design for the spherical caryatid. It was intended to symbolise "world peace through trade". Koenig worked on the monumental work from 1967 to 1971, and it was finally shipped from Germany to the USA. Enthroned above a fountain and surrounded by the towers of the WTC, the sculpture became a popular meeting place in New York.
Who created the sculpture?
Fritz Koenig (1924–2017) was one of the leading German sculptors of the twentieth century. Although "The Sphere" is his main work, he also designed a number of monuments, including at the former Mauthausen concentration camp and for the victims of the terrorist attack at the 1972 Olympic Games in Munich. Talking about "The Sphere" at an advanced age in 2012, Koenig said: "This sphere is a part of me."
What happened to "The Sphere" after 11 September 2001?
"The Sphere" was recovered from the rubble of the collapsed Twin Towers, the only one of the sculptures from the World Trade Center plaza to be saved. Damaged but not destroyed, the artwork became a "symbol of human resilience in times of extreme tragedy and suffering", believes Holger A. Klein, an art history professor at Columbia University. On 11 March 2002, six months after the terrorist attacks of 11 September, New York celebrated when the sculpture – which had intentionally not had every sign of damage repaired – was erected in Battery Park close to its former location.
What happened to "The Sphere" next?
After some lengthy discussions, "The Sphere" was returned to its original site in 2017, and now stands in Liberty Park in front of the One World Trade Center. Among those who campaigned for this to happen was Michael Burke, the brother of William F. Burke Jr., a firefighter who died in the attacks. Another was Alice Greenwald, director of the 9/11 Memorial. She says: "The Sphere still bears the scars of the violence that it survived, and as such serves as a touching and poetic addition to the Memorial".