News from the south
Munich has a new museum attraction: Norman Foster has extended the Lenbach House.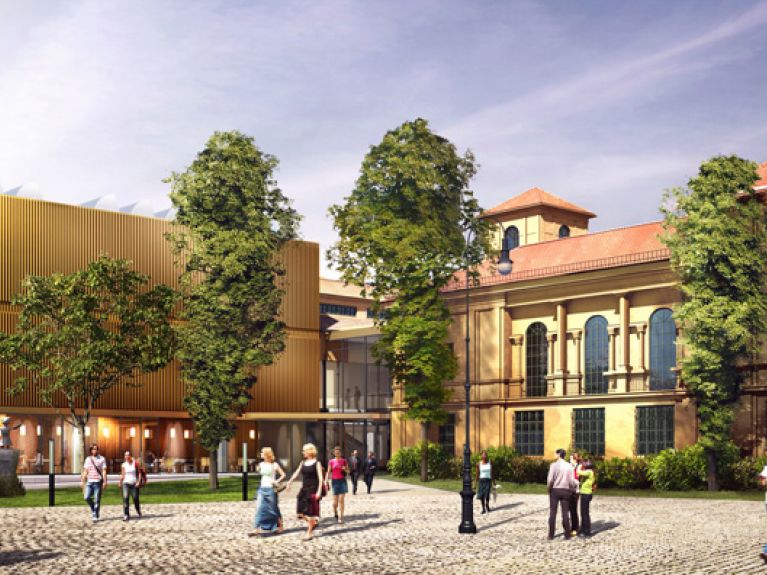 HOME OF DER BLAUE REITER. No other museum is so specialized in the expressive works of the modern art pioneers surrounding Wassily Kandinsky, Franz Marc, Paul Klee, August Macke, Gabriele Münter and Alexej von Jawlensky as the 
Lenbach House in Munich. And few collections can boast such a beautiful place for their presentations. The listed monument is a 19th century artist's villa built in Tuscan style and was originally owned by the great painter Franz von Lenbach. After four years of modernization work by Foster + Partners, the building has been redesigned and extended around a glowing golden cube. The Lenbach House is 
reopening in May 2013.
Reopening facts
Inspired architect - Ever since he gave Berlin's Reichstag Building a spectacular glass dome, leading British architect 
Norman Foster has been valued as a specialist for bringing historical buildings into the present. The cube-shaped new building creates space for a lecture theatre, shop and café.
Ultra-modern lighting - The Lenbach House is the first museum in Germany to comprehensively apply groundbreaking LED technology. The artificial light can hardly be distinguished from natural light.
New collection emphasis - In addition to Der Blaue Reiter 
and 19th century Munich paintings, Lenbach House is 
developing a new emphasis in contemporary art, starting with the latest acquisition "Show Your Wound" (1975) by 
Joseph Beuys.
www.lenbachhaus.de