Wet feet on an art tour
The exhibition Sculpture Projects in Münster is competing with the Documenta. There is exciting art to discover throughout the entire city.
27.06.2017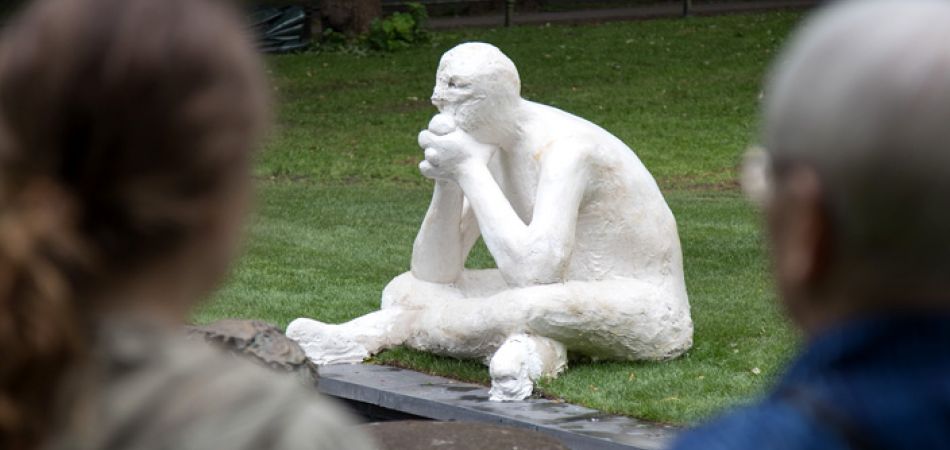 Germany. It has happened that visitors to the Documenta in Kassel have run into to each another again at Skulptur Projekte in Münster, about 200 kilometres distant. The two exhibitions, along with the Biennale in Venice and Art Basel, have brought with them a super art summer in 2017. A rare constellation, for Sculpture Projects is organized only every ten years. It has a special role in the context of the large exhibitions of contemporary art. The exhibition organizers in Münster refrain from relying on easy effects and the big spectacle. "We don't want lighthouses, but rather to drill into the depths", Kasper König, co-founder and co-curator of Projects, has said.
Walking over water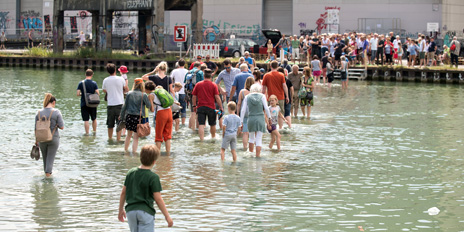 The invited artists set their wits to places in Münster and create projects for the location. In 2017 this has been very successful. Visitors are enthusiastic about the Unterwasserbrücke (Underwater Bridge) of the Turkish artist Ayse Erkmen, which connects the two embankments of the inland harbour, and are fascinated by After A Life Ahead by the French artist Pierre Huyghe. He has transformed a former indoor ice rink hall into a complex system of various life forms. A favourite photo motif is also Nicole Eisenman's Sketch for a Fountain: five figures of bronze and plaster loll at a water basin in a meadow next to the city promenade.
From scandal to landmark
Thirty-five artists from 19 countries have realized the 2017 Projects in Münster. From the past four exhibitions, 36 sculptures have remained in the city as part of a "public collection", including Claes Oldenburg's Giant Pool Balls at the Aasee. It was set up under great citizen protest at the first edition of Projects in 1977. In the meantime it has become a landmark of the city, which in 2017 expects to greet more than 650,000 visitors.