Always on a 
Sunday . . .
Why Tatort transforms everyone in Germany into one big family.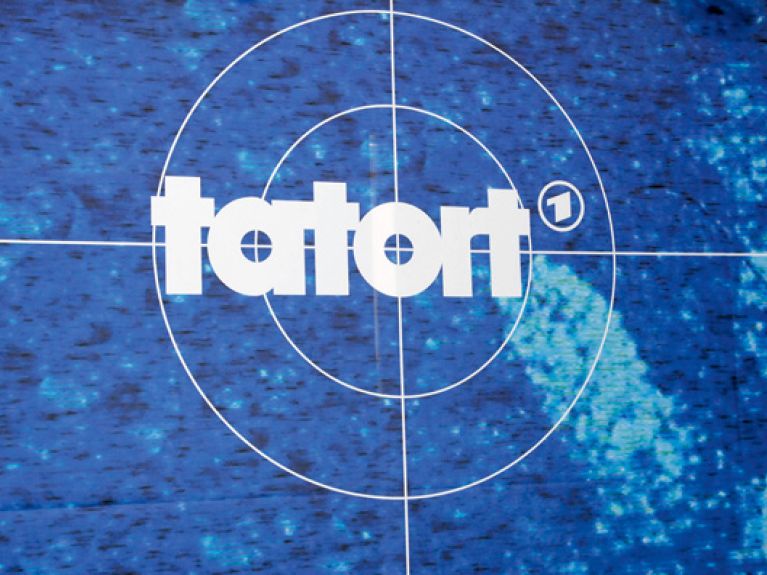 If aliens from outer space ever wanted to capture Germany, the best time would be a Sunday evening. Why? 
Because Germans sit glued to their TV screens between 8.15 pm and 9.45 pm watching Tatort (Crime Scene). It's been like this since 29 November 1970, when the first episode of the most successful and longest-running crime series in the German-speaking countries was shown. The title was Taxi to Leipzig. The story: a dead boy dressed in western clothes is found at a transit route rest area in East Germany. Police inspectors from the west are soon investigating in the east beyond the inner-German border. Case solved? Of course, just as successfully as this brilliant Tatort premiere. The series is so popular that 900 episodes have been made so far. Meanwhile, the ingrained urge to watch Tatort on Sunday has probably entered the German DNA, rather like waste separation and the football Bundesliga.
Why Germans are so dedicated to Tatort is not exactly due to the brilliant scripts or film directing, though these can be great. It has more to do with the ingeni­ous mixture of the familiar and the unexpected. And since we're in Germany – the home base of secur­ity consciousness – the former always cleverly outweighs the latter. From the very start, Tatort was an arena for regional character, a mirror of the country's federal composition. Re­presenting one or more states, each TV station within the ARD group provides its own investigators, its own crime scenes and its unique local atmosphere. What's more: a number of Tatort inspectors have accompanied the lives of viewers longer than some marriage partners: Lena Odenthal and Mario Kopper, for example, are the longest serving Tatort duo with a 25-year 
record as a crime-solving couple.
The weekly cases also reflect current issues. In the past and in the present, everything of public interest in German daily life finds its focus in Tatort: reunification, terrorism, human organ trafficking, globalisation, racism, drugs, environmental scandals, child abuse, unemployment, corporate crime and problems surrounding care for the elderly or finding a partner. 
Although Tatort does not solve the real-life issues in society, it certainly solves the majority of its murder cases, so that on Sundays people can go to bed feeling safe and sound. According to the literary scholar Jochen Vogel, "Tatort is the authentic social novel of the Federal Republic."
At the office on Monday, yesterday's Tatort is the topic of conversation. This is another good reason for Tatort mania: it provides reliable themes for everyone to talk about – even while it is being screened. Nowadays, Tatort fans gather in bars and even cinemas to watch together. And if you want to share the excitement with others at home, a well-established second screen with Facebook and Twitter offers a platform for live commentaries. It is almost as if everyone is sitting in the same living room. One big family united in front of the TV screeen. So Tatort provides an emotional outlet, especially when people get worked up once again about absurd plots, or because a favourite inspector has been replaced. We all know that friction produces heat. That is another reason why Tatort is just as essential to Germany as the Oktoberfest or Neuschwanstein Castle. And because people always love a good argument in Germany as well, each Sunday's Tatort is naturally earmarked as a firm fixture in their weekly TV schedule. So, if you do happen to encounter an alien from outer space in Germany on a Sunday, it would probably be better to just keep it to yourself. ▪
CONSTANZE KLEIS is a journalist, columnist and successful book author. She lives and works in Frankfurt am Main.