Journalism in Germany
This is where you can find background information on professions in journalism, use research sources or study media analyses.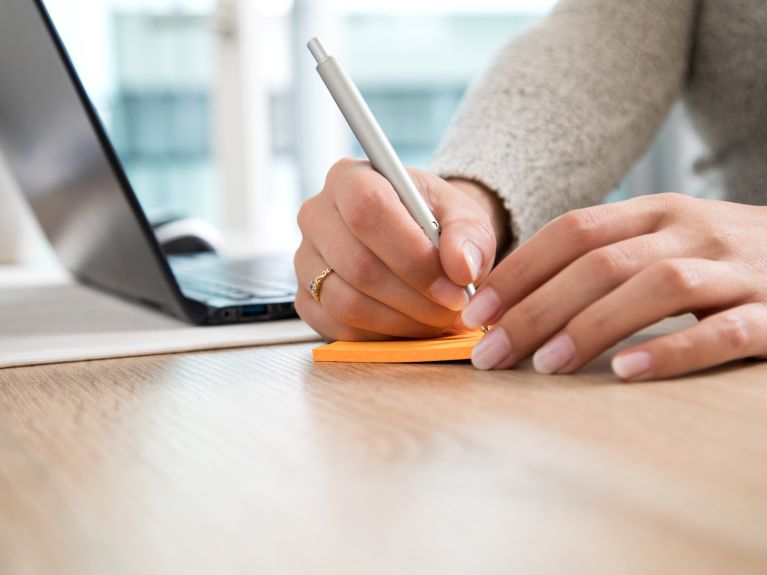 Federal Press Conference
Press conferences with spokespersons from the Federal Government and the Ministries are held three times a week by the Federal Press Conference Association (BPK – Bundespressekonferenz). They serve as a direct source of information for the BPK correspondents to enable them to report on national policies to the general public.
Der Kontakter
The competition never sleeps – the smart minds of the communication sector know that. In order to stay at the top, they have been compiling the latest news from the world of the media, advertising agencies and businnes since 1961. At www.kontakter.de you will find the online news service of the specialist journal.
German Press Council
Journalists are not always true to their professional ethical code: one need only recall reports of misrepresentation, the unauthorized mention of names, and intrusion on privacy. The German Press Council was formed in 1956 as a voluntary organization for self-regulation to combat this problem. Its members ensure that journalists observe the press code, a list of basic principles designed as guidelines for journalists in their daily work.
DFJV – German Association for Specialized Journalists
"Technical mumbo-jumbo" or standard language - specialized journalists speak both. They can write on technical subjects in a way that the layman can understand without having to run for a dictionary. And they publish articles for their peers in the specialized media about subjects in their own area of expertise. The German Association for Specialized Journalists (DFJV) represents the career-related, legal and social interests of these experts.
dju – Union of German Journalists
For more than 60 years, the Union of German Journalists has been a synonym for independent and high-quality journalism and improvement of the working conditions for the professionals of the written word. Today, the Union of German Journalists (Deutsche Journalistinnen- und Journalisten-Union, dju) is a professional group within the United Services Union ver.di, its nearly 22 000 members are employed and free journalists, trainees and students.
German Journalists' Association
Europe's largest journalists' organization provides the latest information on media-related topics, offers special background facts and figures for those interested in journalism and services for journalists. Professional association and trade union all rolled into one, the German Journalists' Association (Deutscher Journalisten-Verband, DJV) represents and advises salaried employees and freelance workers in all fields of journalistic work.
idw - Science Information Service
News from the world of science: Where do the people in the scientific community meet? What research findings will have a definite impact on our daily lives? The Science Information Service (Informationsdienst Wissenschaft – idw) delivers all kinds of news from universities, institutes, academies and foundations in German-speaking regions from around the world. The idw also serves as a point of contact between the experts and the media.
News Enlightenment
Not everything that is important finds its way into newspapers. The Initiative News Enlightenment (Initiative Nachrichtenaufklärung) was founded in 1997 in order to focus on issues that do not find enough coverage in the media. Each year, the initiators publish a hit list of neglected news, the "Top Ten der vernachlässigten Nachrichten".
International Media Help
Go to the website of International Media Help (IMH) to find out whether there is a German newspaper available in Russia or Ecuador and what foreign-language media are produced in Germany. The IMH is a project group and self-help organization made up of international newspapers, magazines, radio stations, television stations, news agencies and media schools.
jobted.com
Are you looking for background information and practical tips for work as a journalist? This portal is overflowing with journalistic know-how. Press spokespersons, photo reporters, and PR advisers all take advantage of information offered here to prepare themselves for their day-to-day work.
Media Days in Munich
In autumn this year, media experts will meet once again at the MEDIENTAGE MÜNCHEN (Media Days in Munich). Decision-makers in the industry will discuss developments and trends at the international convention – including such topics as the future of Pay-TV or how to get a piece of the online advertising pie. The accompanying exhibition presents what's new in the fields of multimedia, mobile communications and film.
Network Research
Investigative journalism needs a lobby, and the Network Research Club (Netzwerk Recherche e.V.) was formed to meet this need. The club represents the interests of journalists who are attacked for their critical work or hindered in their research efforts.
Press Portal
The Press Portal features current news, pictures, graphics, original sound recordings, videos and caricatures. This service, which is operated by a dpa subsidiary, news aktuell, was designed to cater to journalists, analysts and decision-makers.
Reporters without Borders
Without the freedom of the press, there can be no democracy: this is the guiding principle for Reporters without Borders (Reporter ohne Grenzen e.V.), an international human rights organization that defends critical journalists when they are threatened, arrested, or mistreated, and documents violations of freedom of the press all over the world from Afghanistan to Zimbabwe.
Association of the Foreign Press in Germany
The Association of the Foreign Press in Germany (Verein der Ausländischen Presse in Deutschland e.V., VAP) represents the international media in Germany. Its members have even included such journalists as Egon Erwin Kirsch, a Prague newspaper correspondent whose articles appeared in a mid-1920s column entitled "The racing reporter".
Exploitation Society WORD
Journalists, authors and publishes are the intellectual owners of linguistic works. Those who make use of others' intellectual property pay a fee to the Exploitation Society WORD (Verwertungsgesellschaft WORT, VG WORT) – which distributes this money among its member authors and publishers. In this way around 220,000 authors and 5,500 publishers receive income from subsidiary exploitation without having to worry about the circulation of their works themselves.