Privately-operated television stations in Germany
This is where you will find a guide to the programming offered by the private television stations and all kinds of background information as well.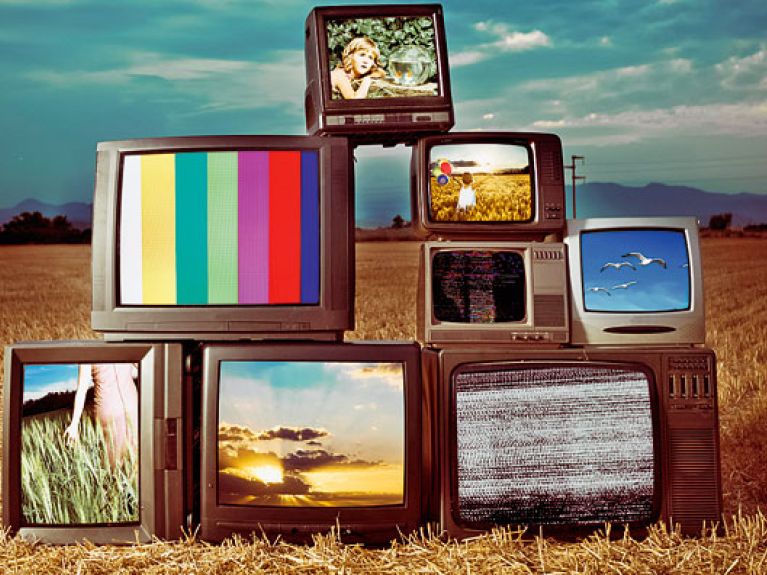 Kabel1.de
Kabel1, a station that belongs to ProSiebenSat.1 Media AG, offers programming primarily for the target group of viewers over 30 and places a special focus on entertainment, i.e. "the greatest films of all time". You'll also find show classics and series on this station.
MTV
MTV was the first TV station to bring music videos into German living rooms. And that's not all – the Internet offshoot of the famous TV station has been around for quite some time, too.
n-tv.de
In 1992, n-tv was the first news-only television program to go on the air in Germany. The partners supporting this channel is, since the beginning of 2006, the German RTL Group.
NICK
Colorful and full of fun! The NICK gang, consisting of the most well-known cartoon figures on this station, welcome young visitors to the website operated by NICK, the private kids' TV station. Since broadcasting began in September 2005, German children have also been able to follow along with the adventures of their small TV heroes on NICK.
ProSieben.de
"We love to entertain you" – that's the motto of ProSieben, the private German TV station that has been part of ProSiebenSat.1 Media AG since 2000. The full-time television programming operates around the clock and is known for primarily broadcasting movies and such TV series as talk shows, sitcoms and comedy.
RTL
A "mixture of entertainment and information" – that's RTL's recipe, a broadcasting company that's the German subsidiary of the Luxembourg-based RTL Group. RTL started up in 1988 as one of the first privately-owned broadcasting companies in Germany.
RTL II
"RTL II is just plain fun" was the motto of this member of the RTL family when it first went on the air in 1993. The primary target group is children and young people. With shows such as "Big Brother", the station has received some very impressive ratings in recent times.
Sat.1 Online
Sat.1 started operations in 1984 and was the first privately owned television broadcasting company in Germany. At www.sat1.de, you can find out more about the full range of Sat.1 programming, from serious documentaries to comedy shows as well as information on other stations that belong to ProSiebenSAT.1 Media AG, including broadcast times and dates, stars and series.
Sky
Feature-length films and no commercials: Sky brought "pay TV" to Germany in 1990. If you want to watch the programs that are broadcast in coded form via cable and satellite TV, you need a digital receiver. Once you have that, nothing stands in the way of watching your favorite films, sports programs, series, children's program and documentaries in the comfort of your own home.
Super RTL
Colorful cartoon series and interactive shows for kids, along with classic movie hits and comedies for adults are what you'll find on the schedule. Super RTL is operated in cooperation between the RTL Group and the Walt Disney Company. Since the station went on the air in 1995, it has developed into the leading children's station in Germany.
Association of Private Broadcasting and Telemedia
Working to provide widely varied programming: Service providers in television, radio, telemedia and online services are united in the Association of Private Broadcasting and Telemedia (VPRT). They work together to improve private broadcasting and the electronic communication channels. The VPRT focuses on media law and policies in Germany and Europe in particular.
VOX
"VOX turns you on!" is the motto of this nation-wide, privately-owned TV station located in Cologne. Entertainment and information: VOX offers a variety of magazines, documentaries and reports during its daytime and evening programming; there are also series and feature-length films. The station belongs to the German RTL Group.