Radio, resiliently popular
Radio is one of the most important and popular media in Germany.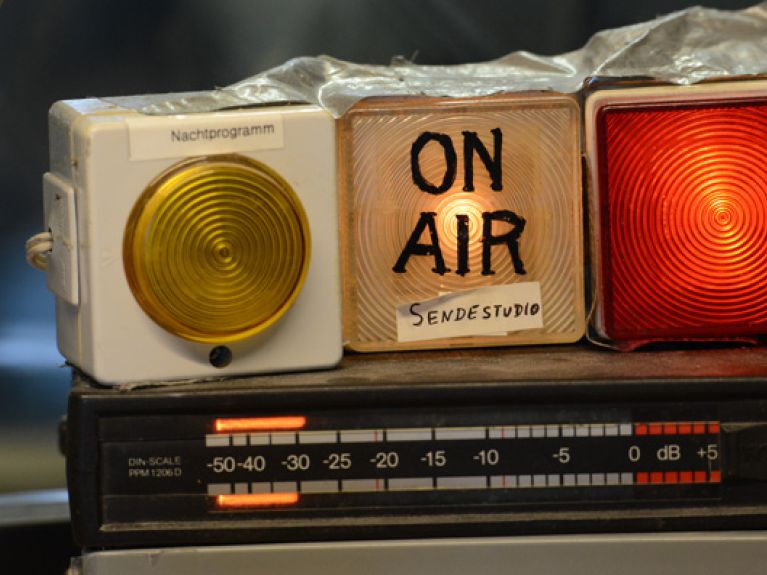 According to the German Working Group on Media Analysis (Arbeitsgemeinschaft Media-Analyse), in 2013 every German listened to the radio for an average of over three hours a day. Radio thus remains a mass medium and seems to be less seriously affected by the profound changes in the media industry than publishers or TV channels, for example. Germany has more than 380 radio stations, some private, some public. It is impossible to imagine everyday life in Germany without radio. It entertains and informs people while they are showering, cooking, driving – and even accompanies some people as they sleep.
Digital radio has many advantages
Yet this medium, too, is experiencing changes related to digitization. Digital transmission improves sound quality. And digital radio has more to offer than just the programmes – the current schedule can be backed up with in-depth texts, images or electronic programme guides. Most programmes can be heard all over the globe via the internet. However, competition from streaming services like Spotify is on the increase. The internet is taking over areas where radio never used to have any competition, such as the car or the mobile phone, and offers many new applications.
Innovative radio formats
What do radio's prospects look like in this situation? Well, it has some advantage over other audio media. Radio offers more than music. And it is always reinventing itself, as witnessed by the increasing number of innovative formats geared to specific listeners' needs. One example is Radio Teddy, a channel that caters for the whole family. Young listeners can influence the programme that is broadcast, whether it's a report, an interview with star or a book presentation. Südwestrundfunk's radio programme News for Natives also focuses on interaction and a young target group. The format was awarded a German Radio Prize in 2013. In addition to radio it also uses other media channels like Twitter or Facebook, and processes all the important information on each topic using different media. Radio is not only everywhere, it's also very much alive, despite its age: German radio will be celebrating its 100th birthday in 2023, after all.
World Radio Day on 13 February